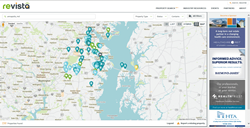 This will be a new kind of healthcare real estate event.
Annapolis, Md. (PRWEB) July 23, 2014
With the growing importance of healthcare real estate (HRE), both healthcare executives and HRE professionals have long awaited a reliable, comprehensive property database to aid in their decision-making.
The wait is almost over.
This fall, national healthcare data firm Revista will hold its National Launch & Executive Forum to unveil the first widely available database of medical properties, finally enabling healthcare executives and HRE professionals to make better informed real estate and facilities decisions. The landmark event will be held Nov. 18-19 at the Sheraton Chicago Hotel & Towers in Chicago.
"The Revista National Launch & Executive Forum will be the first healthcare real estate conference to combine the expertise and insights of industry thought leaders with comprehensive local, regional and national property data," says Elisa Infante Freeman, a principal with Revista. "This will be a new kind of healthcare real estate event, giving healthcare executives and healthcare real estate professionals the opportunity to learn in-person from top experts how to make the most out of property data in their organizations and how to improve their medical real estate strategies."
Northeast region property data became available last month at RevistaMed.com/PropertySearch. Data for other regions is being rolled out this summer and fall, and the national data will be unveiled at the National Launch & Executive Forum in November.
"Attendees will gain insights into how other industries and real estate sectors use data in their businesses, and the lessons experts in those fields have learned," Ms. Freeman added. "Healthcare executives and healthcare real estate professionals will not only have high-level networking opportunities, but they will also leave the event with a much clearer understanding of how medical real estate decisions affect their organizations and clients, ultimately enabling providers to deliver cost-effective, convenient, and high-quality care to their patients."
About the National Launch & Executive Forum
The National Launch & Executive Forum will include a VIP Founders Reception, a Launch Celebration Networking Reception open to all participants, two General Sessions and six Executive Roundtables. Executives from hospitals, health systems and physician groups, as well as healthcare real estate professionals, will explore timely topics affecting medical real estate to include:
Opening General Session:
● The State of the Medical Real Estate Industry and a National Economic Outlook
Roundtable Discussions:
● Medical Real Estate Financing Trends and Investment Criteria
● Innovative Data and Technology in Provider Real Estate Strategies
● Medical Real Estate Valuations
● Historical Performance of Medical Office Buildings vs. Other Asset Classes
● Construction Activity, Development Trends and What the Data Is Telling Us
● Midwest Medical Market Construction Review
Closing General Session & Luncheon:
● How Other Core Real Estate Asset Classes Leverage Data in their Strategies
Scheduled speakers include Andy Baxter, CEO, Surface Logic; Sam Chandan, President & Chief Economist, Chandan Economics; John Duggan, Vice President of Real Estate Operations, Reliant Medical Group; Bryan T. Johnson, Vice President Healthcare Finance Siemens Financial Services; Daniel M. Klein, Senior Vice President, Medical Facilities Group, Health Care REIT; Scott D. Peters, Chairman, President and CEO, Healthcare Trust of America Inc. (HTA); Alan C. Plush, MAI, Senior Partner, HealthTrust LLC; Bob Reilly, Chief Financial Officer, Anne Arundel Health System; Joshua A. Teague, Director, Real Estate, BJC Healthcare; Murray W. Wolf, Publisher and Founding Editor, Healthcare Real Estate Insights™ (HREI™)and Managing Principal, Wolf Marketing & Media LLC; and Laca Wong-Hammond, Head of Healthcare Real Estate, Raymond James – plus additional speakers to be announced in the coming weeks.
To date, event sponsors include Health Care REIT, HealthTrust, HREI™, HTA, Raymond James and Surface Logic.
Ms. Freeman noted that fact-based data from the Revista PropertySearch™ database – the only widely-available, national medical property database – will back up each discussion. The type of information available on the Revista PropertySearch™ database for individual properties will include:
● property status (open, planned, construction) and address,
● property type (such as medical office building, medical office condominiums, office with medical, etc.),
● hospital and system affiliation (if any),
● number of stories and square footage,
● selection of tenants and uses,
● year built,
● transactions and tax assessments,
● maps, and more.
The Revista National Launch & Executive Forum will be held in the heart of the Chicago at the Sheraton Chicago Hotel & Towers, 301 E. North Water St., an ideal location overlooking the Chicago River and within walking distance of businesses, dining, entertainment and nightlife. The hotel also is one block west of Lake Shore Drive, 35 minutes from O'Hare International Airport and 25 minutes from Midway Airport.
Register Today and Save:
For information about the event and to register, please visit RevistaMed.com/Events-National-Launch. Registrants may save $200 per registration by taking advantage of Early Registration rates available until 5 p.m. EDT time Oct. 10.
For more information about the National Launch & Executive Forum and/or sponsorship opportunities, please contact Elisa Infante Freeman of Revista at 443-949-8794 or Elisa(at)RevistaMed(dot)com. Please direct registration questions to Revista Registration Headquarters at Revista(at)MetroConnections(dot)com.
About Revista
Revista serves as a valuable, one-stop source for healthcare and real estate organizations to obtain comprehensive, unbiased and medical real estate industry-focused data; healthcare industry statistics, market reports and other resources; as well as to connect with other professionals in educational networking events.
Revista, which is headquartered in Maryland, was founded by Elisa Infante Freeman, Mike Hargrave and Hilda Flower Martin. They previously held leadership positions with the National Investment Center for the Seniors Housing & Care Industry, whose mission is to advance the quality of senior housing and care through the research, resources and events they provide. These Principals have decades of experience in medical real estate, senior housing and the healthcare industry. They collaborate with an industry-leading advisory board and with founding partners that are major, well-known companies in the healthcare real estate industry.
For more information, please visit http://www.RevistaMed.com.