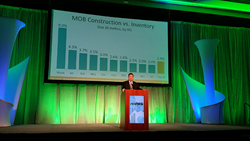 It was astounding to see that the value of the healthcare real estate sector is estimated at $1.2 trillion.
ANNAPOLIS, Md. (PRWEB) November 24, 2014
Revista, a one-stop source for healthcare and real estate organizations to obtain industry-focused data, has just unveiled a healthcare real estate (HRE) database on virtually every medical property in the country. Available on RevistaMed.com/PropertySearch, this is the first widely available, comprehensive medical property database.
Key components of the database include:

More than 51,000 medical properties worth in excess of $880 billion
$22 billion of transaction records on more than 5,000 properties
More than $59 billion of construction information on hospitals, MOBs and other healthcare properties
The database focuses on hospitals, medical office buildings (MOBs), medical condo buildings, freestanding emergency departments and office buildings with medical tenants, and medical retail.
"Healthcare executives have really been hindered by the lack of comprehensive, reliable, national and regional data about medical real estate. But now it's finally available," says Revista Advisory Board Member Joshua Teague, Director - Real Estate for BJC Healthcare. "Hospitals and health systems face greater pressure than ever to be more efficient and cut costs while also delivering high quality healthcare services. The new database should help them make more informed decisions about their medical real estate, better reach their goals and improve patient care and satisfaction."
Revista also reports on the size of the investment grade medical real estate sector, which is defined as purpose-built healthcare facilities that are greater than 7,500 square feet. This sector is comprised of 36,000+ properties totaling 2.8 billion+ square feet and $884 billion in value. This includes:

5,000+ hospitals totaling 1.5 billion+ square feet and $569 billion in value, and
31,000+ medical office buildings totaling 1.3 billion+ square feet and $315 billion in value.
When other healthcare properties such as nursing homes and assisted living communities are added to the list of hospitals and medical office buildings, the HRE sector nationwide is estimated at $1.2 trillion in value – a significant asset class.
Robert Milligan, Executive Vice President of Corporate Finance and Capital markets at HTA, a Revista partner, noted, "A number of statistics in Revista's database really stood out. It was astounding to see that the value of the healthcare real estate sector is estimated at $1.2 trillion. That makes the Revista database even more valuable for helping health providers and real estate professionals understand this huge sector and the trends occurring across the country and in individual markets."
Along with the data release, Revista is posting key summary statistics on the top 10 largest metro areas of the U.S. To view a chart of the medical office inventory characteristics of the top 10 metros of the United States, please visit: http://wolfmediausa.com/hostedimages/Revista/Top10Metros.jpg
Access to RevistaMed.com/PropertySearch is easy and immediate. Users can quickly access the database, which features a sophisticated, highly-specialized interface that enables them to filter and customize the property search results in a variety of ways.
The type of healthcare real estate information and resources available for each record include:
● Property type (hospitals, MOBs, office with medical and more)
● Location and address
● Status (completed, under construction or planned)
● Square feet and number of stories
● Year built
● Affiliation with a hospital or health system
● Proximity to a hospital
Revista rolled out regional databases on medical properties in the Northeast, Mid-Atlantic, Southeast and Midwest over the summer and fall. In addition to the national database, Revista will provide annual and quarterly reports that will include historical statistics on inventory growth, projected new deliveries, and details on specific construction projects and sales transactions.
About Revista
Revista serves as a valuable, one-stop source for healthcare and real estate organizations to obtain comprehensive, unbiased and medical real estate industry-focused data; healthcare industry statistics, market reports and other resources; as well as to connect with other professionals in educational networking events.
Revista, which is headquartered in Maryland, was founded by Elisa Infante Freeman, Mike Hargrave and Hilda Flower Martin. They previously held leadership positions with the National Investment Center for the Seniors Housing & Care Industry.. These Principals have decades of experience in medical real estate, seniors housing and the healthcare industry. They collaborate with an industry-leading advisory board and with founding partners that are major, well-known companies in the healthcare real estate industry.
For more information, please visit http://www.RevistaMed.com.