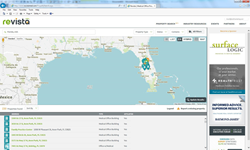 The total number of searchable properties, including existing and recently added, is 34,549.
Annapolis, MD (PRWEB) August 21, 2014
Revista, a one-stop source for healthcare and real estate organizations to obtain industry-focused data, is "on a roll." Today, the Annapolis-based company rolled out healthcare real estate data on the Southeast, Mid-Atlantic and Midwest areas of the country on RevistaMed.com/PropertySearch – the first widely available, comprehensive medical property database tracking these regions.
The total number of searchable properties, including existing and recently added, is 34,549. This includes a wide variety of building types such as hospitals, medical office buildings (MOBs), office, office with medical, retail with medical, medical condos and freestanding emergency departments.
This latest data release follows the June release of Northeast region data. Property-level data for the rest of the country will be rolled out in October, and national data and analysis will be unveiled at the Revista National Launch & Executive Forum on Nov. 19-20 in Chicago.
"Healthcare providers have always needed reliable, detailed data so they can make informed decisions about their medical real estate, but it's never been available until now," says Hilda Flower Martin, Principal with Revista. "In today's challenging healthcare climate, hospitals and health systems need this type of thorough, accessible data more than ever. We believe this valuable resource will help providers and other healthcare real estate executives successfully implement their strategic real estate plans and, ultimately, help them better serve their patient base."
As noted above, this most recent data release brings the total number of properties in the PropertySearch database to 34,549. That includes 13,410 previously released Northeast region records covering Connecticut, Massachusetts, Maine, New Hampshire, New Jersey New York Pennsylvania, Rhode Island Vermont and Maryland (from the Mid-Atlantic region), plus these newly added regions:
● Mid-Atlantic (District of Columbia, North Carolina, South Carolina, Virginia and West Virginia): 4,243 records
● East North Central (Illinois, Indiana, Kentucky, Michigan, Ohio and Wisconsin): 8,959 records
● Southeast (Alabama, Florida, Georgia, Mississippi and Tennessee): 7,937 records
Access to RevistaMed.com/PropertySearch is easy and immediate. Users can quickly access the database, which features a sophisticated, highly-specialized interface that enables them to filter and customize the property search results in a variety of ways.
The type of healthcare real estate information and resources available for each record include:
● Property type (hospitals, MOBs, office with medical and more)
● Location and address
● Status (completed, under construction or planned)
● Square feet and number of stories
● Year built
● Affiliation with a hospital or health system
● Proximity to a hospital
"Sneak peek" of highlights from upcoming Southeast region webcast
● Sixty-one percent of buildings in the Southeast are affiliated* with a hospital or hospital system
● Thirty-nine percent of buildings in the Southeast are affiliated*with a system that has five or more hospitals compared to only twenty-two percent of properties in the Northeast that are affiliated with a larger system of five or more hospitals
● The five largest health systems by number of location in the Southeast:
● Adventist Health System, Sun City, Fla.: 573
● Community Health Systems, Franklin, Tenn.: 318
● Hospital Corporation of America, Nashville, Tenn.: 289
● Catholic Health East/Trinity, Newtown Square, Pa.: 279
● Wellstar, Atlanta: 207
● Florida construction highlights:
● $4.1 billion total under construction or in the late planning stages in Florida
● 57 qualified projects
● Average MOB project valued at $41 million
● Average hospital project valued at $110 million, slightly less than half the average hospital project cost in the Northeast ($217 million). The difference is partly due to several very large projects in Northeast.
These and a variety of other data and analysis are able to be reported by the principals of Revista as a result of the new data added to the Revista PropertySearch database.
Revista will hold a free webcast, Southeast Region Medical Real Estate Market Profile, 11 a.m. EDT Sept. 9, to discuss more details on the Southeast region. To register, please visit http://conta.cc/1zRMQWH.
*Affiliated: Revista tracks whether properties are affiliated with a hospital or health system. In order to be considered affiliated, the location must either be listed under "locations" on the hospital's or system's website or we it's been determined that the hospital or a hospital-owned practice leases space in the building.
National conference scheduled
Healthcare and real estate professionals will soon have a face-to-face chance to learn more about Revista, its data and opportunities in the healthcare real estate industry through an upcoming live national conference, as well as a Southeast region webcast.
Revista will hold a National Launch & Executive Forum, Nov. 19-20, at the Sheraton Chicago Hotel & Towers. The event will include a Launch Celebration Reception, two General Sessions and six Executive Roundtables. The event's focus is to provide innovative, strategic data to industry participants, and connect them with the people that matter most to their business in an efficient, VIP atmosphere. Medical executives from hospitals and physician groups, as well as other healthcare real estate professionals will explore timely topics impacting medical real estate today with Revista's fact-based data to back up each discussion. For more information about the event, please visit http://RevistaMed.com/Events-National-Launch. To register please visit, http://www.RevistaMed.com/Events. Attendees may register at a discounted "Earlybird" rate until 5 p.m. Central time Oct. 10.
For more information about the National Launch & Executive Forum, free editorial press passes and/or sponsorship opportunities, please contact Elisa Freeman of Revista at 443-949-8794 or Elisa(at)RevistaMed(dot)com.
About Revista
Revista serves as a valuable, one-stop source for healthcare and real estate organizations to obtain comprehensive, unbiased and medical real estate industry-focused data; healthcare industry statistics, market reports and other resources; as well as to connect with other professionals in educational networking events.
Revista, which is headquartered in Maryland, was founded by Elisa Infante Freeman, Mike Hargrave and Hilda Flower Martin. They previously held leadership positions with the National Investment Center for the Seniors Housing & Care Industry.. These Principals have decades of experience in medical real estate, seniors housing and the healthcare industry. They collaborate with an industry-leading advisory board and with founding partners that are major, well-known companies in the healthcare real estate industry.
For more information, please visit http://www.RevistaMed.com.
Revista
121 Cathedral St., Suite 1-C, Annapolis, MD 21401
P: (443) 949-8794 ● Mail(at)RevistaMed(dot)com ● http://www.RevistaMed.com