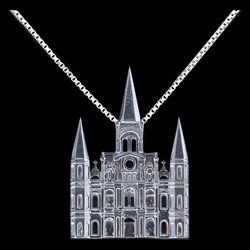 I want to end poverty and crime in New Orleans
New Orleans, LA (PRWEB) November 02, 2016
At his core, Jacob Pazos has always had a serving, philanthropic heart. On August 29, 2005, New Orleans experienced the worst damage the United States had ever seen. Early that day, Hurricane Katrina took her path to strike the city of New Orleans. This storm was so powerful that it destroyed the homes of hundreds of thousands of people. Damage, debris, and desperation ran throughout the city. New Orleans had seemed down and out.
Jacob recalls his return from his evacuation, seeing the city and remembering it looked like a wasteland. Jacob recalls of that day, "It was absolutely heartbreaking. Seeing my once-vibrant city filled with love and joy was now a ghost town with this sense of desperation. Homes were ripped apart, trash and debris was scattered everywhere—everywhere you looked there seemed to be no sign of hope. New Orleans was the city of resilience, but at that point, people were very-seriously asking the question 'will it ever bounce back?'"
That first day back, Jacob became frustrated with seeing his city in this seemingly hopeless state; the city he so vigorously wanted to flourish now appeared as though there would be no way of growth, development, or potentially even survival. That day, he swore to himself that he would help the city rebuild and restore.
The following summer, at just 12 years old, Jacob put his passion into action and began volunteering at local nursing homes, serving the homeless and tutoring inner city kids. His thirst for helping the city was unquenchable. He had the desire to do more to help people but at that time Jacob also began to work full-time at his father's diamond wholesale company. To Jacobs's surprise, one day he stumbled upon an amazing skill while working. Jacob began to learn the skills of CAD (a computer aided design that turned jewelry draft designs into realistic renders).
For years, Jacob worked at his father's shop, eventually doing custom jobs for high profile clients from all around the country, including NFL athletes and celebrities. As he worked on these projects, Jacob still constantly wondered how he could help his city. His entire vision of ending poverty and crime in New Orleans was a case that needed much more than volunteer work. That was when it all came together. Jacob knew with his combined skills of jewelry design, and his desire to help his community, that he would be able to live out his childhood dream and help the city of New Orleans. In 2016, a cross between his passion and skill birthed Revival Nola, a New Orleans style jewelry company that gives back to the city with each and every sale.
Revival Nola is a New Orleans jewelry company that has recently launched in September 2016. As a new startup, they offer pendants with a whopping 10% of sales going to local non-profits. The company is solely based online and is able to be visited here.
Jacob is very direct and honest about his goals. "I want to end poverty and crime in New Orleans," says Jacob. Jacob's dreams for New Orleans are big to say the least; especially for someone who's 23 years old, has never owned his own business, and has no formal business education. It's evident nothing will get in the way of his dreams for his city—his motivation lies in the restoration and happiness throughout New Orleans, the city he holds so close to his heart. Jacob Pazos wants to inspire people around the world. He emphatically shared, "People need to chase their dreams, regardless of the risk of failure."
You can support Revival Nola and by learning more about them at http://www.revivalnola.com