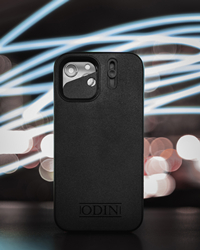 We wanted to put control back in the hands of the user offering a safe, convenient, privacy solution for their smart device
MIAMI (PRWEB) August 08, 2022
Odin Products, creators of smart device protective cases and accessories with built-in front and rear camera and sensors blockers, today launched the Revo Cases on Kickstarter.
Revo Cases are the world's first iPhone cases with built-in cameras and sensors blockers for both the front and back cameras to prevent scratches, damage and spying to keep users, their family, and the device protected. The blockers are engaged with a simple slide motion to open and block the camera lenses.
Apple's current lawsuit against NSO Pegasus Software shows that Apple and Android smart devices can be remotely hacked. This software is just one of many which can gain complete access to one's smart device, cameras and personal information.
"We created Odin Products to bring a new and innovative solution to an existing market that has been lacking innovation and creativity," said Igor Molina and Rafael Vidal, co-founders of Odin Products. "The replacement cost for broken camera is almost as much as the cost of a new device, this was a pain point we looked to fix by creating an impact shield for camera lenses."
To ensure maximum protection, Odin partnered with Speck Design, the product design house behind Pop Socket and the makers of award-winning cases Speck Products, to design the Revo Cases.
Full Revo Case features include:

Sleek and Simple Design
Built in cameras and sensors blockers
Six foot drop protection
Customizable buttons colors
MagSafe compatible
Carbon and Recyclable materials
"We wanted to put control back in the hands of the user offering a safe, convenient, privacy solution for their smart devices," added Molina and Vidal. "We also have plans for future versions of our cases."
Odin Revo Cases are available exclusively for iPhone 13 (including PRO & PRO MAX versions), while pre-orders are available for the upcoming iPhone 14 release. Plans are also underway for Android and iPad cases in late 2022.
For more information and to order the Revo Case, please visit odinproducts.net and Kickstarter.
About Odin Products
Created by Venezuela native Igor Molina and Argentina native Rafael Vidal, the two grew up together in Coral Springs, FL. Odin's mission is to raise awareness about our product and the cause it serves- to put the choice of privacy back in everyone's hands. We want to create a new line of products across all smart devices, tablets and accessories and raise the public's awareness around privacy protection.
Follow Odin Products on Social:
Tik Tok: @odinproducts
Instagram: @odinproducts