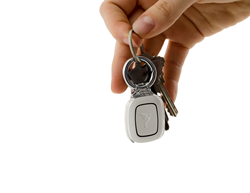 Through technology, we are more connected now than ever before. However, there are still times when individuals find themselves alone and vulnerable in the real world. Whether one is jogging in a secluded area, or on an uncomfortable date, there are
Denver, CO (PRWEB) April 04, 2017
Revolar, a wearable technology company, launches the latest advancement in wearable safety with a new product, Revolar Instinct. Revolar Instinct is a fashionable wearable device and step-counter, designed to stop assaults before they happen by sending out help alerts at the first sign of trouble. Revolar Instinct ($79) is available for preorder today and ships in May.
Revolar Instinct is a quick way to communicate or send for help. Just click the button 1, 2, or 3 times to alert loved ones with your real-time GPS location and tracking link as well as customized text messages. The device connects to a user's compatible smartphone. Within the Revolar App, the user can customize their contacts, choose which alerts will be sent to which contacts and customize the alert messages.
"We created Revolar to revolutionize the way you protect yourself and the ones you love," says Co-founder and CEO Jacqueline Ros. "We interviewed hundreds of survivors and what we heard again and again was, 'I knew something was wrong, but I felt paralyzed. I couldn't call 911 because of a bad feeling.' We designed Revolar to end the stigma around asking for help."
In an unsafe situation, individuals may not have time to use their phone or even access it. And if things turn tense, attempting to call for help on the phone could escalate a bad situation. This is why Revolar allows users to discreetly activate a silent alert in less than second, and quickly send for help while automatically sharing their location.
More than just a safety device, Revolar products enable users to communicate with friends, family members, and significant others in seconds. Users can check-in with 1-click, ask for back-up with 2-clicks (Yellow Alert), and signal an emergency with 3-clicks (Red Alert). Revolar also has a "Ring Me" feature, which lets users click the Instinct button to call their own phone and excuse themselves from uncomfortable situations like bad dates.
Revolar Instinct is already in production with all of the necessary certifications and will ship in May. Revolar Instinct can be ordered for $79 at Revolar.com or Indiegogo.com through May.
About Revolar
Revolar's safety wearables empower people to protect the ones they love. The company was founded to prevent sexual assault by making it simple to send for help, and Revolar's technology is used by people all over the world to stay safe. At the click of a button, Revolar wearables send the user's location and custom instructions to trusted contacts — so they can send any help the user may need. Revolar's latest product, Instinct, is the size of a quarter and it's the only safety device that includes features like step tracking to encourage everyday use.
Revolar devices are available for purchase at Revolar.com, Amazon, Target.com, BestBuy.com and Brookstone stores across the US. To learn more, visit Revolar.com
Media kit including more images and app screenshots on Brandfolder.com/Revolar