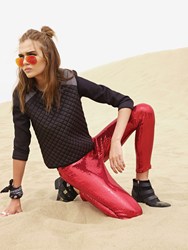 Welcome to the circus!
Los Angeles, CA (PRWEB) August 15, 2013
Circus by Sam Edelman provides a fresh take on women's footwear by reinventing shoe staples to create edgy, new styles. In the collection now available at REVOLVEclothing, spiked bow details take basic black ballet flats to the next level and booties are transformed from ordinary to show stopping with stud accents and unexpected color combos.This line is perfect for the woman who appreciates the classics but also seeks the latest trends.
REVOLVEclothing buyer, Becky Brewer, describes Circus by Sam Edelman as a must-have brand for the fashion-forward woman seeking footwear that expresses her individuality. "Welcome to the circus! This playful, younger extension of Sam Edelman breathes new life into the footwear category. The Circus girl is a bit of a rebel, empowered by her obsession with fashion. She is energetic, embraces color, and is not scared to mix the unthinkable. She has an undeniable edge. Look out for lots of metal details, textured leathers, and color," said Brewer.
Visit REVOLVEclothing.com to browse the selection of Circus By Sam Edelman footwear. The assortment of flats and booties with unique touches are a shoe lover's dream.
About REVOLVEclothing:
REVOLVEclothing is the virtual home of an unrivaled collection of the world's most coveted brands of men's and women's designer apparel, shoes and accessories. We provide the highest quality shopping experience and impeccable customer service. To shop the latest styles, visit REVOLVEclothing.com.