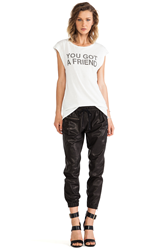 Reinventing Basics
Los Angeles, CA (PRWEB) May 15, 2014
New to REVOLVE comes Pam & Gela, the quintessential laid-back California brand from the founders of Juicy Couture. Pamela Skaist-Levy and Gela Nash-Taylor went back to their roots of cozy clothing to create a line that puts a twist on simple tees, and makes casual sweats and dresses anything but.
Like the velvet velour sets they are known for, this inseparable pair have spent the last 25 years making their mark on fashion. From the Juicy Couture revolution, to their part memoir, part business theory "The Glitter Plan", and now Pam & Gela. There is no limit to what this friendship can accomplish.
Pam & Gela strive to design chic and effortless styles that evoke a "familiar feeling" says Skaist and Taylor, by taking back and reinventing the basics. With leather sweatpants, dip-dye separates, and lace insets, Pam & Gela bring a modern edge to everyday pieces.
Amp up your essentials and shop Pam & Gela now on REVOLVE.
ABOUT REVOLVE:
REVOLVE is the virtual home for an unrivaled collection of over 500 of the world's most-coveted established and emerging brands in women's and men's designer apparel, shoes and accessories. REVOLVE provides the highest quality online and mobile shopping experience, serving the style-savvy consumer with impeccable customer service. Based in Los Angeles, REVOLVE's aesthetic is deeply rooted in the Southern California lifestyle from which it was founded, where a savvy view of fashion and fun-loving attitude are infused into the entire REVOLVE customer experience. For more information please visit http://www.revolveclothing.com.