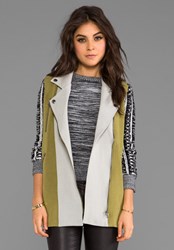 effortless and simplistic... key for building any wardrobe.
Los Angeles CA (PRWEB) October 15, 2013
REVOLVE picks up minimalist essentials from contemporary brand, Primary New York. Inspired by the 1966 NYC art exhibit "Primary Structures" showcasing young sculptors, Primary aspires to convey the sophistication in simplicity.
Founder and Creative Director Cleo Schroeder infuses her love of modern art into the collection with geometric themes, contrast panels, clean lines and small details. Schroeder also names several of her pieces after her favorite artists and shape terms such as, the Koons Blazer, Masik Pant, Acute Pant, and Linear Dress.
"Every piece has an effortless and simplistic feel which is key for building any wardrobe," says REVOLE buyer Becky Brewer. "I love the leather accents that allow for an edgier look without being overpowering, this is definitely one of my new favorite lines for the season."
With a full collection of graphic tees, contrast tops, mélange sweaters, sleek vests, leather leggings and skirts, and even crochet headgear, Primary pieces are the perfect foundation for building a chic fall wardrobe.
Get artistic and shop the Primary New York collection now on REVOLVE.
About REVOLVE:
REVOLVE has been recognized as the premiere destination for coveted brands and unparalleled customer service since 2003. Home to over 500 men's and women's cutting-edge designers, the site boasts the latest apparel, shoes and accessories, all offered with free shipping and returns, plus a 30 day price match guarantee. To shop the latest styles, visit REVOLVE.