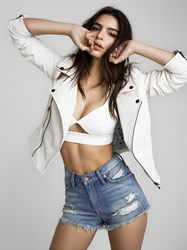 the emergence of REVOLVE as a major player in online retail
Los Angeles, CA (PRWEB) February 07, 2014
REVOLVE, a leading online specialty retailer serving the upscale, fashion-savvy consumer, today unveiled a head-to-toe makeover of its website, revolveclothing.com.
Founded in Los Angeles in 2003 by Michael Mente and Mike Karanikolas, REVOLVE offers a wide selection of full-priced apparel, footwear and accessories from over 500 contemporary brands. Brands range from established labels such as Rebecca Minkoff, Paige Denim and Current/Elliott to emerging designers including Self Portrait, IRO and Lovers + Friends.
REVOLVE's new site design features an updated look and feel, enhanced navigation, larger, higher-quality product imagery, and new fit technology tools as well as new features and content that amplify the brand.
In a nod to its highly social, customer base, REVOLVE is introducing a new feature called #REVOLVEme that incorporates customer photos posted on social feeds in a shop-able gallery on its site. Photos of customers wearing products purchased on the site are matched with product listings, creating photo reviews that allow customers to see fit and styling by other members of the REVOLVE community.
REVOLVEme anchors a new area of the site dedicated to content called Spotlight that also features profiles of new personalities and designers each season who support and amplify REVOLVE's Southern California aesthetic and point of view. The first personality to be featured on the site is model and actress Emily Ratajkowski, who also serves as the face of REVOLVE's spring campaign called #THENEWNEW.
Co-founder and co-CEO Michael Mente commented, "Our spring campaign, #THENEWNEW, celebrates the new website design and features emerging ideas and people. Emily is the ideal choice to lead our campaign, as she perfectly embodies our customer -- sexy and ambitious -- and her rising star mirrors the emergence of REVOLVE as a major player in online retail."
Other personalities will be introduced and featured throughout the course of the spring campaign, including emerging musicians, artists, photographers, and bloggers who embody #THENEWNEW campaign theme.
ABOUT REVOLVE:
REVOLVE is the virtual home for an unrivaled collection of over 500 of the world's most-coveted established and emerging brands in women's and men's designer apparel, shoes and accessories. REVOLVE provides the highest quality online and mobile shopping experience, serving the style-savvy consumer with impeccable customer service. Based in Los Angeles, REVOLVE's aesthetic is deeply rooted in the Southern California lifestyle from which it was founded, where a savvy view of fashion and fun-loving attitude are infused into the entire REVOLVE customer experience. For more information please visit http://www.revolveclothing.com.