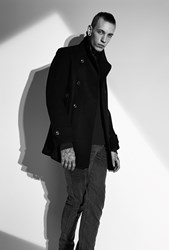 Fall out of the shadows and into the light
Los Angeles, CA (PRWEB) November 22, 2013
The REVOLVEman breaks through the winter gloom and into the light with their latest editorial 'FALL SHADOWS'. Shot by Bret Lemke under the creative direction of Cassidy Burton, this spread showcases the artistry and variations of depth and contour in black and white, creating levels of contrast between backdrop shapes and profile formations.
'FALL SHADOWS' features the REVOLVEman's winter essentials, with Lawson Taylor (NEXT) styled by Eric Asence in ombre knits, graphic tees, and the perfect winter coats. Highlighting brands like Won Hundred, LPD, Tovar, and Ezekiel.
Fall out of the shadows and shop the feature now on REVOLVEman.
About REVOLVE:
REVOLVE has been recognized as the premiere destination for coveted brands and unparalleled customer service since 2003. Home to over 500 men's and women's cutting-edge designers, the site boasts the latest apparel, shoes and accessories, all offered with free shipping and returns, plus a 30 day price match guarantee. To shop the latest styles, visit REVOLVE