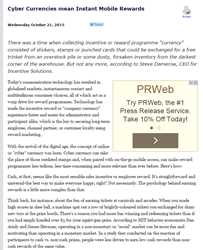 In addition to the "fun factor" of cyber currency, companies also benefit from the ability to brand their digital dollars.
Atlanta, Georgia (PRWEB) November 13, 2015
Steve Damerow, CEO of Atlanta-based incentives company Incentive Solutions, has been advising businesses on reward program and marketing strategies for years. Many of his reward program recommendations are featured in various industry sources. Among the latest publications to feature his articles is The Wise Marketer, an online resource that regularly disseminates marketing insights, opinions and news. Damerow's piece in The Wise Marketer is titled "Cyber Currencies Mean Instant Mobile Rewards" and focuses on how, by combining cyber rewards currencies and mobile technology, companies can create powerful and engaging new marketing possibilities.
In his article, Damerow cites the studies of MIT behavior economists Dan Ariely and James Heyman, who found that when people operate in a non-monetary or 'social' market, compensation is more fun and motivating than when they're operating strictly within a monetary market. Their study on the reaction of participants to cash vs. non-cash prizes indicated that people were more driven to earn non-cash than cash rewards of the same value."
Based on the appeal of non-cash rewards, Damerow recommends that companies use cyber currencies such as digital "points" in their reward programs. "For companies, it's more cost effective to invest in cyber currency reward systems than to simply dole out cash incentives, since cyber currency is more likely to motivate participants to work toward the prize, whether your goals are to increase sales, secure customer loyalty, gain market share or raise employee engagement."
In addition to the "fun factor" of cyber currency, companies also benefit from the ability to brand their digital dollars, Damerow says. "Your currency being digital doesn't mean it can't be 'minted' with your logo or slogan. 'Coin' icons can be created, for instance, bearing whatever imagery you want. Make them look like decadent doubloons or…gold trophies. Those who earn your cyber currency will treasure that currency and, when it carries your corporate messaging or logo, they will come to value your brand, too."
By allowing participants to access reward programs and cyber currency through mobile apps, companies can create an even more unique and contemporary reward experience. "Mobile app technology allows users to check their cyber currency balance, play games or participate in quizzes and surveys to earn more cyber currency, shop or create wishlists on online catalogs where they spend their cyber currency, even redeem cyber currency in participating vendor stores-all directly from their smartphones," Damerow says.
The proliferation of mobile and digital technology has created interesting new possibilities in the worlds of marketing and reward programs. Damerow and his team at Incentive Solutions provide insights into reward program marketing strategies such as cyber currency adoption so that businesses can influence performances and excel in the marketplace.
Incentive Solutions, Inc. was founded in 1994 and is based in Atlanta, GA. Part of The ISI Group, consisting of Incentive Solutions, Loyaltyworks and Travel Solutions, Incentive Solutions offers online rewards, travel incentives and debit card reward programs. Since its creation, Incentive Solutions has been an innovator in the incentive industry by utilizing emerging online technologies that help companies increase sales, engage and motivate employees, encourage customer loyalty, create positive work environments, and enrich sales channel relationships.
Incentive Solutions
1-866-567-7432
2299 Perimeter Park Drive, Suite 150
Atlanta GA 30341