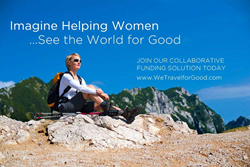 Join our fun mission helping women see the world for good
Santa Monica, Ca (PRWEB) April 07, 2015
Santa Monica based staffing solution is now rewarding women who participate and collaborate to fund causes; spiritual journeys to Bhutan with Daniel Gutierrez. Women who make referrals enabling recruiting for good to make placements and fund causes, earn rewarding travel destinations; We Travel for Good.
With the rise in travel cost; less people are traveling abroad. The purpose of the funding website travel service is to make any women group destination affordable and possible.
"We are using recruiting for good to help women change and see the world. Women use their social contacts to enable us to use Recruiting for Good to fund causes and to reward travel. Every time a woman introduces a hiring manager, and it materializes into a placement, we share proceeds to donate to a local cause, and to fund rewarding global travel, WeTravelforGood.com." says founder of Recruiting for Good, Carlos Cymerman.
About
Daniel Gutierrez is a renowned motivational speaker who has inspired Fortune 500 companies and individuals world-wide to make positive changes that lead to success. When Daniel Gutierrez steps on stage, he delivers his own life changing strategies, helping you to harness your thoughts and improve productivity. He knows that many times in our business world we lose focus, and we become disconnected from our true intentions. Mr. Gutierrez has profoundly impacted the lives of corporate executives and entrepreneurs, nonprofit organizations, multicultural communities, and youth. As a certified seminar leader and practitioner of neuro-linguistic programming, his motivational power to change attitudes and bring clarity to the future gets results. http://www.danielgutierrez.com
Fuzeus, is a social sharing and fundraising platform that deepens the connections between nonprofits and the individuals and communities that support them. We make it easier to find, share and care about the good being done in the world by providing you with the tools to turn your voices into action. FuzeUs.com
Recruiting for Good is a staffing solution, helping people; find great jobs, make a difference, and earn rewarding travel. Since 1998, Recruiting for Good, has helped companies find great candidates. For more information about using recruiting for good, ckeck out http://www.RecruitingforGood.com. We look forward to rewarding women who participate to fund causes; and rewarding spiritual journeys with Daniel Gutierrez.