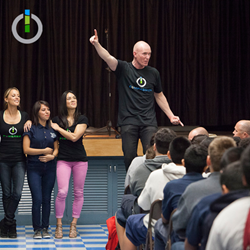 Denver, CO (PRWEB) March 17, 2014
Health and lifestyle innovator Bamboo Nutra LLC is pleased to announce the recent addition of acclaimed speaker, author, humanitarian and performance/life/transformation coach, Rex Crain.
After being signed by the Boston Red Sox at 18 years old, Crain turned down his second season in order to pursue his true calling; motivational speaking and empowering people from all walks of life to discover and develop greatness and capture their destinies. Today, Crain joins Bamboo Nutra, with over 16 years under his belt as an acclaimed motivational speaker and transformation coach.
Bamboo Nutra VP Leighton Dean stated, "We're thrilled with the fundamental qualities and attributes that Rex brings to the Bamboo Nutra Family. This is a man that has unconditionally devoted his life to improving the lives of others, and we're eager to see the extent of the impact we can make on the world together!"
"Rex will take the lead role in our coaching and life transformation system, Powered By Nature," said Dean, "Powered By Nature takes an avant-garde approach to coaching and life transformation. It's complex system is built around the simple concept of improving quality of life; whether it be a full fledged body/mind/life transformation, addressing/overcoming unresolved issues, or discovering and developing those inner qualities that breed champions." The Powered By Nature system will also be complemented by a 3-volume novel, to be co-authored by Crain, that the Company anticipates will be released this year.
Of the recent union, Rex Crain stated, "I am passionate and proud to partner with Bamboo Nutra. From the ground up, this is the type of company that we need more of around the world. So often you see companies that have little to no social responsibility or outreach, but love to play on the 'we change the world' and 'we care' marketing schemes; so it's really refreshing to see that the entire Bamboo Nutra family, from the top down, undeniably cares about changing peoples lives and having a palpable positive impact on the world. And that simple fact is what spawned our partnership and why we have such a great fit."
In addition to the development and implementation of Powered By Nature, Crain and Bamboo Nutra will be spearheading a wide array of community outreach programs together. Bamboo Nutra's first outreach program, the 'Champions Challenge', has been created to engage youth from around the world with discussion and education.
"Through the (Champions) Challenge we will strive to harness the potential of our youth and encourage them to waken the Champion within. To reinforce the pursuit of greatness, an integral part of the Challenge is to get the kids involved in compassionate behavior and carrying out random acts of kindness," said Crain, "Our goal is to provide each and every young person we encounter with the opportunity to discover their personal potential and experience the feeling of making a difference in the lives of others. The Champions Challenge ultimately poses one question; what can one person do? And the answer my friends, is something truly remarkable!"
For more information, visit BambooNutra.com, or keep up to date with all the latest news, events and challenges on Facebook at http://www.facebook.com/BambooNutra or on Twitter @BambooNutra. To connect with the Bamboo Nutra evolution, add the hashtag #bamboonutra along with #compassionbynature, #poweredbynature and/or #championschallenge to your social pics/posts/videos.
About Bamboo Nutra LLC:
Bamboo Nutra is an innovative Health Supplement and Lifestyle Company, focused on promoting comprehensive body/mind/life transformation through positive and healthy lifestyle choices. The company's core philosophy is built around instilling key principles into people's lives such as knowledge, education, confidence and compassion, and bringing health and wellness to every corner of the world.