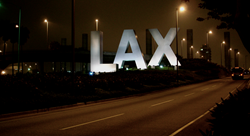 The quality of the cars speaks for itself, but we also have to strive to provide the high quality service that airport travelers expect
Los Angeles, CA (PRWEB) July 15, 2015
According to an article published June 28 on LA Business Journal, the traffic that LAX saw throughout May of this year was 4.5 percent higher than the same time last year. This reflected a total of 6.4 million passengers throughout the month. With all of these extra travelers, says Los Angeles car rental agency Rex Luxury Car Rental, there is more pressure put on agencies to compete for their business by offering them the best service and the best cars. "As a luxury rental company," says Rex Luxury Car Rental, "The quality of the cars speaks for itself, but we also have to strive to provide the high quality service that airport travelers expect." According to Rex Luxury Car Rental, here are some of the additional services that they offer:

Airport Pick and Drop Off – While many car rental companies offer shuttle service from the terminal to the off rental lot, Rex Luxury Car Rental notes that they greet customers individually at whatever terminal they arrive in at LAX. Their representatives escort each customer to their vehicle and assist them in completing the transaction smoothly and professionally. With convenient LAX car rental drop off, Rex says that they aim to make every customer experience as streamlined and simple as possible. They even offer to pick clients up from within three miles of the airport at no cost.
Vehicle Orientation – While standard rental companies will simply hand the customer the keys and point them to the end of a row of cars, Rex Luxury Car Rental notes that they give each individual customer an orientation of the specific car that they choose. When driving some of the world's greatest luxury vehicles, it is important to know how to use everything that the car has to offer.
Rex Luxury Car Rental notes that, while their service is often what keeps their regular customers coming back, it is their exceptional line of vehicles that initially draws customers in. In addition to more popular luxury brands such as Mercedes Benz and Lexus, they also offer some of the most renowned names in ultra-high-end motoring including Rolls Royce, Ferrari, Bentley, and Lamborghini. Anyone interested in browsing their world-class selection and making a reservation for their next trip to Los Angeles can call 310-665-9000 or visit http://www.rexluxurycarrental.com today. Up to date information about pricing and selection of the full line of vehicles is available from their professional representatives.