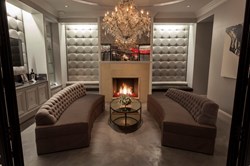 The addition of our yacht interior design services is a natural progression for Rey3 Design, since we specialize in providing custom interiors to the luxury market.
Los Angeles, CA (PRWEB) August 31, 2013
The Rey3 Design Collaborative (Rey3 Design), an architecture and interior design firm specializing in providing design services and custom furnishings for luxury, residential, hospitality/resort and commercial properties, has retained March Communications Inc. to provide public relations and marketing communications initiatives and recommendations to promote the firm's current design projects and services, including its recent expansion into the yacht market.
"As our design services in the luxury market expand, it is important for us to communicate our growing expertise to target audiences," stated Rey III Viquez, design principal and owner of Rey3 Design. "March Communications specializes in promoting professionals within the architecture and design industry, and has a proven track-record of building awareness for its clients within key markets and top industry publications, so it was a natural fit for our companies to join forces."
A primary component of the PR campaign will be to promote Rey3 Design's interior design services for the yacht industry. Known for designing luxury environments for residential and resort properties, Rey3 Design's move into the yacht market marks the firm's next evolution of growth.
"Moving into the yacht arena is a natural progression for Rey3 Design," said Viquez. "We have a long-standing history of providing custom interiors to the luxury market. Our expertise in product design, along with our obsession for detail and cohesiveness in interior environments, will be a fundamental component of our designs. We look forward to serving this exclusive niche in the luxury market. "
Viquez will attend the upcoming Monaco Yacht Show (September 25-28, 2013) and the Fort Lauderdale International Boat Show (October 31 – November 4, 2013). The firm's participation at the shows will include presenting new interior design concepts and services for the industry, as well as introduce Rey3 Design's innovative process and approach to creating exceptional yacht environments. Rey3 Design will also host a breakfast event at the Monaco Yacht Show, where Viquez will lead a roundtable session with a number of the industry's top vendors and service providers to discuss the latest trends for yachts.
In addition to providing traditional PR and marketing initiatives, March Communications will develop social media programs and brand messaging for Rey3 Design, including building fans, followers and connections across multiple platforms.
"We are very excited to work alongside Rey and his talented team of architects and designers," said Melinda Peffer, founding principal of March Communications Inc. "We look forward to promoting the firm's new services and expanding awareness for Rey's exceptional design expertise."
About The Rey3 Design Collaborative: The Rey3 Design Collaborative is an architecture and design firm known for providing clients with an exceptional experience, and places a premium on creativity and user needs. Rey III Viquez, founder and design principal of Rey3 Design, holds a master's degree in architecture and is an industry veteran with over 25 years of integrated architecture and interior design experience. The firm provides comprehensive architecture and design services for residential, commercial and hospitality/resort properties; custom furnishings; and interior design for yachts. For more information, please visit http://www.rey3.com.
About March Communications Inc.: March Communications Inc. specializes in the development and implementation of public relations, social media and marketing campaigns for architecture, design and fine art professionals. The agency's founder, Melinda Peffer, has developed and implemented award-winning campaigns for a wide range of professionals/companies throughout the United States, Europe and Asia. Her diverse knowledge includes business-to-business and business-to-consumer programs. For more information, please contact melinda(at)marchcomm(dot)com.