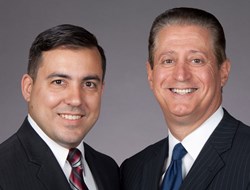 While it is the responsibility of all cities and police forces to protect their residents, they must do so without compromising rights set forth in the United States Constitution
Miami Gardens, FL (PRWEB) December 02, 2013
Reyes Law Group attorneys Carlos J. Reyes and Stephan Lopez filed a civil rights lawsuit against the City of Miami Gardens for allegedly systematically profiling, stopping, frisking, searching and arresting African-American citizens in its city without cause (Earl Sampson,et al., v. City of Miami Gardens et al., Case # 1:13-cv-24312-DLG). The suit also targets the leadership and police personnel who allegedly sanctioned and enforced this unconstitutional policy, including Mayor Oliver Gilbert III and Chief of Police Matthew Boyd.
"Put simply, we believe the civil rights of African-American citizens in Miami Gardens are being violated," said Reyes, principal for the law firm. "As stated in the court documents, low-income African-Americans, typically young men between ages 15 and 30, are consistently harassed and abused with little or no cause. Because this treatment is pervasive, consistent and long term – having taken place over a period of four years – we believe it represents a sanctioned policy by the City of Miami Gardens, its representatives and police department. "
As stated in the court documents, plaintiffs in the lawsuit include Alex Saleh, owner of the 207 Quickstop, a convenience store on 207th Street in Miami Gardens, and Quickstop employee Earl Sampson, who police stopped at least once a week for the past four years as part of the department's "zero-tolerance" crime-reduction program. Saleh installed video cameras to chronicle the consistent and aggressive targeting of his employees, typically low-income black men.
"While it is the responsibility of all cities and police forces to protect their residents, they must do so without compromising rights set forth in the United States Constitution," added Reyes. "We think that this is an example of 'zero tolerance' gone awry, to the detriment of the citizens and business owners of Miami Gardens."
Attorney Lopez adds: "We believe the City and its final policy makers, past and present, acted with deliberate indifference to the rights of the named Plaintiffs and countless others by creating policies, practices and customs that allowed certain officers to feel they could engage in a pattern and practice of police misconduct, with absolute impunity. We believe that discrimination is unacceptable."
The Reyes Law Group is led by Carlos J. Reyes, a 25-year veteran of the legal profession with a depth of experience in civil and commercial litigation claims & lawsuits. He brings this case forward with Reyes Law Group attorney Stephan Lopez, a former prosecutor, police detective and police officer. Lopez' strong background in law enforcement enables him to bring invaluable expertise to this case.
The Reyes Law Group practices in the South Florida counties of Broward, Miami-Dade and Palm Beach and is located at 2924 Davie Road, Suite 102, in Davie, Florida. For more information, call 954-369-1993.