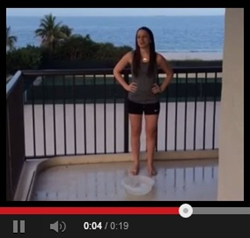 The Reyes Law Group is happy to have been a part of the ALS ice bucket challenge that so far has helped raise over $100 million in donations
Davie, FL (PRWEB) August 29, 2014
The Reyes Law Group is dedicated to raising community awareness for several causes such as Broward Partnership for the Homeless, Light of the World Clinic and ALS Foundation.
Broward Partnership is committed to reducing homelessness by promoting independence and self-worth through advocacy, housing and comprehensive services. As a former member of the Board of Directors of Broward Partnership, Carlos J. Reyes, esq. has had the benefit of seeing up close and personal the way they work to truly help the homeless change their circumstances. For the 6th Annual Golf Challenge, Carlos has committed to raise $2,000, 100% of which will go towards the Partnership's Family Services Program. This program provides critically needed services and support for homeless families with children who reside on campus. Every little bit counts, if you would like to help please click here to donate.
Light of the World Clinic, Inc. is an IRS recognized 501c3 organization. The clinic was established in 1989 by the late Dr. Erwin M. Vasquez and other community leaders to provide free essential health care and preventative medical services to the disadvantaged residents of Broward County. Carlos has been involved for many years and is currently a Board Member and Interim CEO/President. The focus now is to buy its own property to house the clinic. If you would like to assist in this effort please click here to donate.
The ALS Association has topped $100 million in donations from people all over the globe who were moved to action by this summer's Ice Bucket Challenge. As of August 29, the Association has received $100.9 million in donations compared to $2.8 million during the same time period last year (July 29 to August 29). The Reyes Law Group's Melissa J. Ulloa, esq. is happy to have been a part of that initiative (click here to view her video). Amyotrophic lateral sclerosis (ALS), also known as Lou Gehrig's Disease, is a progressive neurodegenerative disease that affects nerve cells in the brain and the spinal cord. "The word gratitude doesn't do enough to express what we are feeling right now," said Barbara Newhouse, President and CEO. "These funds will be used to fund cutting-edge research as well as care and support to people living with the disease." If you would like to take part in this initiative click here to donate.