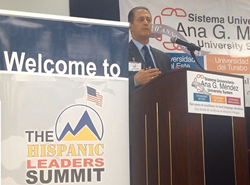 … if you're here now, become an American citizen so you can vote. And then when you receive that privilege, … you exercise it, you vote!
Miramar, FL (PRWEB) October 16, 2014
On Oct. 14, 2014, the third annual Hispanic Leaders Summit was held at Ana G. Mendez University System. This summit brings together prominent Hispanic leaders with a view to seek union under the umbrella of The Hispanic Vote, an organization that aims to mobilize the Hispanic community regardless of party or nationality. A key topic was the status of Hispanic voter participation in Broward County and South Florida prior to this year's mid-term elections.
Among the speakers were the Co-Chairpersons Lieutenant Rafael Lopez of the Broward County Sheriff's Office and Richard Lozada, Director of Outreach, Sistema Universitario Ana G. Méndez, South Florida Campus and Keynote Speaker Attorney Carlos J. Reyes, Founder and Director of Hispanic Vote and Cuban Americans for Better Florida (the "CABF"). Topics also included were Immigration Update by Milton Aponte, Attorney at Law, a presentation on "Building a Representative Democracy" by Yuri Konnikov, President of Florida Initiative for Electoral Reform, and a panel discussion where Hispanic leaders answered questions and discussed a myriad of factors concerning Hispanic voter engagement and turn-out.
In his keynote speech (click here to view), Attorney Carlos J. Reyes of the Reyes Law Group reflected on the how CABF and Hispanic Vote originated as an outgrowth of electoral defeats faced by local Broward Hispanic judges in 2008. Those defeats made it clear the Broward Hispanic community needed a voice to communicate, organize and advocate for the community. Moreover, how over the years since then, via a myriad of events held by CABF and Hispanic Vote, we have increased the community's visibility and provided members with access to our local leaders and government. Reyes reminded attendees how participation led to the CABF getting involved in the 2011 redistricting effort by drawing a redistricting map for the local county commission to consider. And further, how after the process, it pushed ahead by joining a federal lawsuit filed against the county alleging violations of the "Voting Rights Act." And now today, how the Hispanic community is at a cross roads. Irrespective of the country you're from, Reyes said, "… if you're here now, become an American citizen so you can vote. And then when you receive that privilege, … you exercise it, you vote!" Lastly, he offered attendees a challenge. When it comes to creating a true Hispanic voting block, … Reyes said, "today is all about the broader question,. … that is, what larger issues can we agree on as Hispanics that can unite us as a Hispanic voting block? No one gives up power! Not the Democrats at the County Commission or the Republicans controlling the State House. You want Power?? You have to go out and get it! In this country, we do so by the ballot box. By doing so, we can be assured that the growing Hispanic voice will have a seat at the table where decisions that impact us are made!"