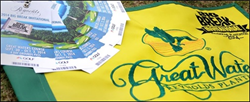 Greensboro, Ga. (PRWEB) September 22, 2014
Spectators are welcome at next week's Big Break Invitational Reynolds Plantation, a four-day invitational tournament featuring a field of 40 of the most memorable and successful Big Break competitors in the series' history going head-to-head in tournament conditions. Tickets, which are compliments of Reynolds Plantation, must be reserved in advance and can be picked up the day of the event at the parking shuttle drop off at Great Waters, where play is to be held.
Up to four tickets can be requested on the tournament website, http://www.reynoldsplantation.com/big-break-invitational, while groups larger than four should contact info(at)reynoldsplantation.com.
The inaugural Big Break Invitational is to be contested on Reynolds Plantation's award-winning Jack Nicklaus-designed Great Waters course Sept. 30 - Oct. 3, 2014. Spectator parking is available at the entrance to the Great Waters community with shuttles running to the golf course during tournament hours.
The $300,000 milestone event features a select field of 40 made up of past Big Break men and women champions, as well as the series' most memorable competitors from the past 21 seasons.
The first two rounds will feature a modified Stableford format, with the 12 men and 12 women earning the most points making the 36-hole cut. Thursday's third round will feature match play (six men vs. six men, and six women vs. six women), with 12 match-play winners advancing to Friday's final round of 18-holes of stroke play. Players will compete for a $300,000 purse, with $100,000 going to the champion.
Established in 1992, Great Waters is one of Reynolds Plantation's five award-winning courses. The golf course is ranked among the best in Georgia, this year No. 3 on the Golfweek list of best in the state.
# # #
About Reynolds Plantation
Reynolds Plantation, located between Atlanta and Augusta, Ga., is situated along more than 374 miles of Lake Oconee shoreline and features six championship golf courses, dining, swimming pools, pedestrian trails, marinas, a tennis center and a wellness campus. Reynolds Plantation is also home to The Ritz-Carlton Lodge, a 251-room lakefront resort and spa, which was named a 2014 AAA Five Diamond Lodging and 2014 Forbes Four-Star resort. The community is located about an hour and a half from Atlanta's Hartsfield-Jackson International Airport. For more information, visit http://www.reynoldsplantation.com.
Real estate and other amenities are owned by Oconee Land Development Company LLC and/or other subsidiaries and affiliates of MetLife, Inc. (collectively "OLDC"), and are not owned or operated by MetLife. MetLife is not engaged in home building, leasing, resales or brokerage activities at Reynolds Plantation. OLDC may not own homes, condos or cottages; availability varies and is subject to withdrawal without notice. Obtain the Property Report required by Federal law and read it before signing anything. No Federal agency has judged the merits or value, if any of this property. The California Department of Real Estate has not inspected, examined, or qualified this offering. This is not intended to be an offer to sell nor a solicitation of offers to buy real estate in Reynolds Plantation by residents of HI, ID, NY, OR, or any other jurisdiction where prohibited by law. No offering can be made to residents of New York until an offering plan is filed with the Department of Law of the State of New York. Access and rights to recreational amenities may be subject to fees, membership dues or limitations.