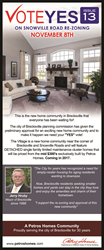 We have received numerous inquiries and people are very excited about the prospect of bringing this much-needed size and style of housing to the community. - Gary Naim President, Petros Homes
Broadview Heights, Ohio (PRWEB) October 28, 2016
While the coming November election will bring historic change to our country, a local home builder also has an important issue worth a vote. Petros Homes is excited to bring a long sought after housing community to the city of Brecksville. This custom home builder has been developing beautiful neighborhoods in the Brecksville community for over 30 years.
Petros Homes is seeking resident and voter approval for a new community called The Village that will be located on Snowville Road, east of Brecksville Road. The development will feature 59 cluster homes that offer one and two story floor plans. These limited maintenance homes are on smaller lots starting in the $300,000 range. The proposed new community has already been met with elation from residents seeking to downsize. The Mayor and the planning commission have even given it a preliminary approval.
"We have received numerous inquiries and people are very excited about the prospect of bringing this much-needed size and style of housing to the community," said Gary Naim, president of Petros Homes and partner of Sam Petros, developer of The Village.
"Until now, Brecksville residents have had to seek out alternatives outside of the community and want to remain in search of a home that affords them an easier lifestyle design. The Village will offer those perfect floor plans along with the high-end finishes that their larger homes provided," Naim said.
To make this exciting new community a reality, Petros is seeking a "yes" vote on Issue 13 which allows the rezoning of the 25-acre parcel from the required ½ acre lot size to a smaller cluster home lot size. This will help empty nesters and those seeking a more low-maintenance housing option. Brecksville's Mayor Hruby has stated that the rezoning plan is a community enhancement, providing a needed housing design option to retain current Brecksville residents.
Looking ahead to November 8, Petros Homes is confident in a resounding approval based on the initial positive feedback that has come their way. "We have had many calls from residents of Brecksville along with the support of the local real estate professionals who are really looking forward to the community and are inquiring as to how soon they can expect to see it take shape," Naim said. "With the nod of approval by the voters in November, we anticipate sales to begin in early 2017."
More information on Petros Homes and updates on new and existing communities can be found at their website, Facebook page facebook.com/petroshomes, or by calling (440) 546-9000. Petros Homes is located at 10474 Broadview Rd. in Broadview Heights, OH 44147.
A custom home builder based in Broadview Heights, Petros Homes specializes in developing quality home communities across five counties in the greater Cleveland area. Petros Homes offers move-in-ready homes or custom building options and has partnerships with lending and title companies, trade contractors, and suppliers to help with every step in the process.