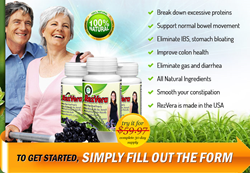 Rezvera Offers Effective Natural Remedies for Problems Like IBS, Stomach Bloating and Diarrhea
(PRWEB) June 17, 2014
Rezvera is a dietary supplement made of completely natural elements to aid the digestion process and eliminate any and all obstacles in the digestion process through active enzyme production. The process of food absorption and digestion is conducted within our body with the help of certain enzymes and molecules, the absence of which can result in body suffering from health ailments like Diarrhea, Gas Bloating and Irritable Bowel Syndrome (IBS). The dietary supplements by Rezvera provide 18 different kinds of enzymes in the body that never reach the body from the food people consume. The food loses out on these nutrients and enzymes during the process of cooking. The two main natural ingredients of RezVera are Aloe Vera and Resveratrol. These ingredients do not only aid in the digestion process, but also helps in nourishing the skin and energizing the body to feel and look young.
Rezvera is completely manufactured in the USA by a GMP or Good Manufacturing Practice certified manufacturer. The manufacturing process is in line with the FDA approved guidelines. For people suffering from ailments like IBS, Diarrhea, flatulence, indigestion, constipation, acidity, stomach bloating, gas, colon problems and other related health issues, taking one or two pills of RezVera after every meal can slowly reduce symptoms of the ailments. Rezvera is completely made of natural ingredients and has absolutely no side effects.
Click here to find out more about getting relief from digestion problems through Rezvera.
Rezvera comes with 90 day money back guarantee with no questions asked. Due to the different ways the food is prepared, these days and the extensive use of Microwave oven, the process of food absorption by the body has become restricted. Rezvera ensures that it breaks down food and accelerates the food absorption process. Regular consumption of one to two pills of Rezvera after every meal ensures that the body gets a balanced proportion of nutrients and vitamins needed by the body to function normally, promotes normal bowel movement, eliminates gas and stomach related issues and enhances body metabolism.
Typically, problems like excessive burping, gas and constipation are ignored by the people. However, prolonged period of existence of such issues can result in symptoms taking the shape of a disease. Rezvera eliminates the symptoms at the very early stage itself, so that the body functions normally and helps in monitoring body metabolism. Rezvera is an all inclusive digestive and a dietary supplement that includes only the natural ingredients, which are tested rigorously for safety and proven results. The company promises to bring your digestive system back on track and eliminate or reduce all digestion related issues within 30 days of regular consumption of Rezvera. The powerful and effective combination of 18 natural digestive enzymes and 75 kinds of minerals, vitamins, enzymes and amino acids, works collectively to reconfigure your digestive system to work normally and without issues like IBS, gas bloating and diarrhea.
About The Company
Rezvera is a leading digestive supplement manufactured by Good Manufacturing Practice manufacturer in accordance with the FDA guidelines. The company uses only the naturally available elements in its products to help customers, suffering from gas bloating, IBS, Diarrhea and other digestive ailments, get fast and effective relief. Contact the company at 1 – 888 – 687 – 8813 or visit the company's site at Rezvera.com for more details.