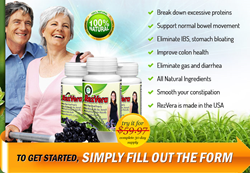 RezVera offers complete solutions for those suffering from flatulence and other gas related conditions
(PRWEB) June 30, 2014
After staying in the industry for quite some time, RezVera has developed natural remedies which are great at threating a wide variety of digesting problems.
At least once in everyone's life, there comes a time when they experience issues related to digestion, some of these including flatulence, bloating gasor, stomach bloating. Although such issues do not impose a danger one someone's health, they can become quite annoying. Many issues related to flatulence in public and the inability to withhold it has been experienced by billions of people all around the world. Fortunately, it turns out that a balanced diet together with the help of food supplements represent what is needed to get rid of these problems once and for all.
With this in mind, RezVera was created. By providing natural remedies for all kinds of digesting problems, the company aims at becoming the leading supplier for these kinds of supplements all around the world. Its natural remedies are known for their ability to break down excessive proteins, improve overall colon health, but also help in supporting a normal bowel movement for all those experiencing problems related to their bowel. Additionally, the supplements provided by this company are also known to help people get rid of gas, thus removing the unpleasant effect of flatulence.
Together with the problems that can be solved with a good alimentation, RezVera can also help people get rid of diarrhoea while also making constipation seem less of a burden. As the supplements provided by RezVera can fight a wide variety of problems, any user would be happy to find out that it is not just a temporary solution. Every product is designed in such a way that it will make sure to treat the actual cause of the problem, instead of providing just what is known as temporary relief from the pain felt or gas.
More information about how RezVera works can be found at:
http://rezvera.com/rd/pr.php?source=06302014
However, it is important to remember that excessive stomach pain together with too much gas can also be symptoms of other serious disease which should be treated at a licensed physician. Having a poor digestive system can cause a wide number of conditions, some of these including stomach gases, flatulence, explosive diarrhoea, Cohn's disease and many more. Making sure to treat the digestive system and keeping it healthy has been scientifically proven to lower the chances of ever having to face any of these conditions.
As the products designed by RezVera have been tested by a high number of people from all around the world, they are sure to work out and solve a wide variety of stomach and digestive problems, thus granting all the users an effective, but also healthy digestive system.
About RezVera
With 100% natural ingredients, the supplements provided by the company are sure to treat pretty much any kind of digesting related problems. As the products are produced in the USA, the highest quality is promised as well. Based on the fact that RezVera is considered safe from all the points of view, just about anyone who has stomach related problems can try out the supplements and watch the cause of the problem being treated right before their eyes.
To learn more about RezVera, visit: http://rezvera.com/rd/pr.php?source=06302014