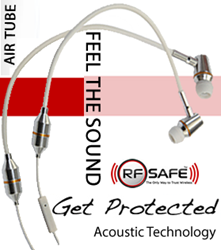 RF Safe has specialized is cell phone radiation safety for over 15 years and offers several very easy solutions for reducing cell phone radiation exposure
New York City, New York (PRWEB) February 18, 2014
According to RF Safe, there is mounting evidence that exposure to cell phone radiation can have hazardous health effects. DNA Damage at levels of exposure far below the current FCC standards has researchers looking for non-thermal explanations for how non-ionizing radiation is causing genetic damage.
Prof. Nesrin Seyhan , WHO and NATO adviser and head and founder of the Biophysics Department and Bioelectromagnetics Laboratory at Gazi University in Ankara and founder of the Non-Ionizing Radiation Protection (GNRP) Center, found that just four hours of exposure to RF-EMF disrupts the ability of human brain cells to repair damaged genes.
"This work provides a warning signal to all of us. The evidence justifies precautionary measures to reduce the risks for every one of us," says Prof. Wilhelm Mosgoeller from the Medical University of Vienna, who has led European research teams that found that RF-EMF induces DNA breaks.
According to RF Safe studies are showing more significant bio-effects at lower and lower power densities. Dr. Henry Lai has reported DNA single and double strand breaks at levels below the current FCC exposure standard. Genetic Effects of Non-Ionizing Electromagnetic Fields Oct 2012 http://www.bioinitiative.org/report/wp-content/uploads/pdfs/sec06_2012_genetic_effects_non-ionizing.pdf
RF Safe has specialized is cell phone radiation safety for over 15 years and offers several very easy solutions for reducing cell phone radiation exposure.
Here is what RF Safe recommends for maximum cell phone radiation safety:
1) Replace the hands-free headset that came with your cell phone with an RF Safe Air-Tube Headset.
2) Use a RF Safe Pocket Shield or Flip Case Radiation Shield to block phone radiation when carrying the cell phone near the body.
3) Use a Clamp on Ferrite Bead to reduce phone radiation traveling up a headset's wire.
To learn more about cellphone radiation hazards and protection visit RF Safe at http://www.rfsafe.com.
ABOUT RADIO FREQUENCY SAFE – RFSAFE.COM
RF SAFE is the world's premier provider of cell phone radiation protection accessories and informational data. Since 1998 RF (Radio Frequency) Safe has been dedicated to evolving the wireless industries safety standards, by engaging in the business of design, testing, manufacture, and sale of safety technologies to mitigate harmful effects of cell phone radiation.