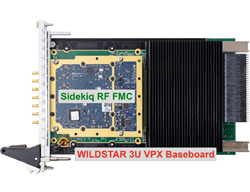 Our Sidekiq family of software defined radios have played an integral part in many SWaP-optimized radio solutions
SCHAUMBURG, Ill. (PRWEB) November 27, 2018
Epiq Solutions, experts in low-power reconfigurable radio solutions, and Annapolis Micro Systems (AMS), a leading FPGA board and systems supplier, have collaborated to offer an OpenVPX assembly that marries Epiq Solutions' Sidekiq™ RF transceiver card with Annapolis' WILDSTAR™ FPGA baseboard.
This software defined radio (SDR) solution delivers high performance, flexibility, and scalability in a compact package, for the development of low-SWaP avionics, EW/EA, and signal intelligence applications and systems.
Sidekiq X2 and X4 cards provide up to four phase-coherent RF transceivers covering 1 MHz to 6 GHz, all within a VITA 57.1 FPGA Mezzanine Card (FMC) form factor. RF performance is enhanced with 16-bit A/D converters and 14-bit D/A converters.
The Sidekiq cards are compatible with any AMS WILDSTAR baseboard with a WILD™ FMC+ (WFMC+™) slot, which now includes six 3U boards and four 6U boards. WILDSTAR boards integrate the highest-performing Intel and Xilinx FPGAs, including Virtex® UltraScale+™, Zynq® UltraScale+ MPSoC, and Zynq UltraScale+ RFSoC, and are available in either convection or conduction cooled configurations.
"Our Sidekiq family of software defined radios have played an integral part in many SWaP-optimized radio solutions where our customers need to get their products deployed quickly while maintaining performance, flexibility, and open standards in their solution", stated John Orlando, CEO at Epiq Solutions. "We are excited to be collaborating with Annapolis Micro Systems to further broaden our portfolio of software defined radios with a turnkey multi-channel high performance radio solution supporting OpenVPX and our Sidekiq software/FPGA reference design."
"The ease of marrying these two boards is a validation of the interoperability and scalability of the WILD OpenVPX EcoSystem we have developed," said Noah Donaldson, Annapolis Micro Systems Chief Technology Officer. "It proves you can achieve high performance while maintaining openness and commonality."
To facilitate application development, a Sidekiq Platform Development Kit (PDK) provides a complete development environment. Design and integrate your own software applications and FPGA processing blocks on top of standard reference designs and an open API.
The integrated assembly and associated PDK reduces development times and improves wideband versatility and performance for many complex RF applications, including:

Satellite Communications
Digital Radio Frequency Memory (DRFM)
EW/EA Systems
Wideband RF Record and Playback
Spectrum Monitoring
5G Cellular Systems
802.11 AC/AX Systems
Direction Finding
About Epiq Solutions
Epiq Solutions is a company committed to developing state-of-the-art software defined radio platforms and sensors that push the limits of small form factor, integration and low power consumption. These products are used by customers around the world in government, military, and business sectors, for commercial, research and security/defense applications. In addition to radio platform expertise, Epiq Solutions develops innovative integrated RF sensing products and signal processing applications that run on these platforms. These applications leverage decades of experience in the commercial wireless industry, enabling unique capabilities that support 2G/3G/4G cellular as well as other commercial wireless communications standards. For more information regarding Epiq Solutions' products and services, please visit epiqsolutions.com.
About Annapolis Micro Systems
Founded in 1982, Annapolis Micro Systems is the leader in FPGA-based super-high-performance systems utilized for signal processing applications for defense and commercial requirements.
Annapolis systems are truly COTS-based due to the development of a breakthrough product line – WILDSTAR™ – and ecosystem – Wild40™ & Wild100™ – that feature unprecedented interoperability, scalability, and forward/backward compatibility.
All Annapolis products are engineered and manufactured under one roof in the United States. This co-location of engineering and manufacturing allows for better quality control and production flexibility, and substantially more aggressive delivery schedules. Learn more at https://www.annapmicro.com/