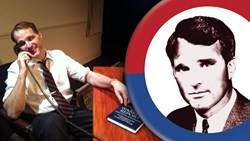 "Only those who dare to fail greatly can ever hope to achieve greatly." - Robert F. Kennedy
Philadelphia, PA (PRWEB) September 30, 2013
New City Stage Company will be opening the 2013-14 season with "RFK", a play about the last 4 years of Senator Robert F. Kennedy's life. The show also began the 2012-13 season and was one of the biggest hits New City Stage has had, selling out out 18 performances in a row and extending 2 weeks. The show is written by Jack Holmes, who grew up in the Philadelphia area and performed in the original production. It is directed by New City Sage Founding Artistic Director Ginger Dayle and stars Producing Artistic Director Russ Widdall as Bobby Kennedy. The show runs October 31 until November 24, 2013 at the Adrienne Theatre Second Stage, with the possibility of an extension. Tickets are on sale now and can be purchased by clicking here or calling (215) 563-7500.
Some performances are already sold out so order your tickets now!
New City Stage's 2013-14 season is entitled:
A Presidential Era: The 60s, 70s, 80s and Beyond
An exciting season of all Philadelphia premieres that surround the personalities trying to get into (and out of) the White House... and all the drama in between. Five captivating theatrical events to keep you at the forefront of politics all season long.
Read more about the season here.
New City Stage Company presented the first professional production of the show, including the Philadelphia and Washington, D.C. premieres. The fall 2013 production of "RFK" received critical acclaim, making it the hit of the 2012-13 Philadelphia theatre season. Arguably the highest rated play performed in the greater Philadelphia area this past fall, it has received rave reviews and was attended by playwright Jack Holmes as well as many local politicians and friends of the Kennedy family.
New City Stage's version of the play is entirely unique -- it includes videos of the Kennedy family, several from personal family archives never released to the public before. Along with music from the era, this multi-media approach has been designed and edited by Ren Manley, a videographer and sound designer based in Philadelphia. Kennedy family videos and photos were provided by Ginger Dayle.
"RFK" was then invited to participate in the 2013 Capital Fringe Festival in Washington, D.C. as the featured theatre production. The show has received more press than any other show in the 2013 Capital Fringe Festival, which has resulted in increased ticket sales every day. Although the Studio Theatre Stage 4 is the largest venue in the festival, the demand for tickets is outweighing the capacity.
Here are some of the rave reviews for New City Stage's "RFK":
The Washington Posts says:
"Russ Widdall's portrayal of a man trying to honestly change the world for the better is convincing and, of course, tragic without an awareness of its tragedy. "
Washington City Paper:
"RFK explores the tragic fairytale of the Kennedy family through Bobby's eyes and archival footage, woven together to create a wonderfully memorable fantasia. Russ Widdall brings RFK's struggles to balance family ties and political pressures to life with personal and poignant stories—an amazing performance made even more impressive by the fact it's basically a monologue.:
DC Theatre Scene says:
"Russ Widdall's transformation into RFK is seamless... Widdall doesn't act like RFK, he becomes him."
DC Metro Theatre Arts:
"RFK is a triumph... a powerfully moving flashback for anyone who remembers Robert F. Kennedy's life and times, and an illuminating tribute for anyone born more recently... a profoundly revelatory lens for us all on U.S. life and times today."
Philadelphia City Paper:
"RFK will be self-recommending to many people, but I hope some younger audiences get there, too. The show — and RFK himself — deserves it."
Philadelphia Inquirer:
"The history play RFK is special in several ways... it's exceptionally well performed by Russ Widdall... and like many single-character shows, shifts back and forth in time, but does so with grace and electricity."
Stage Magazine:
"Regardless of your politics, party affiliation, or age, you should appreciate the extraordinary quality of Widdall's acting... what a performance!"
Broad Street Review:
"Russ Widdall's performance is a tour de force that must rank among the best of the past several seasons. Clear credit also goes to director Ginger Dayle."
ABOUT THE SHOW:
"RFK" begins in 1964 when President Johnson decided not to ask Senator Kennedy to be his running mate up until RFK's untimely assassination during the 1968 presidential election. It also includes background information on his personal life as well as his relationships with brother President John F. Kennedy, sister-in-law Jacqueline Kennedy, Reverend Martin Luther King, Jr. and FBI Director J. Edgar Hoover.
This historically accurate play features music and film footage from the era -- all compiled exclusively by New City Stage Company for this new production.
Film and television actor Russ Widdall, of HBO's "The Wire," portrays Robert F. Kennedy in this one-man tour de force show.
RFK
Written by Jack Holmes
Directed by Ginger Dayle
Featuring Russ Widdall as Robert F. Kennedy
Running October 31 to November 24, 2013
Opening Night is Saturday, November 2 at 8:00 PM
Adrienne Theatre
Second Stage
2030 Sansom Street
Philadelphia, PA 19103
FOR MORE INFORMATION:
Interviews and press information:
Contact Marketing Associate Sarah Scholl at Sarah(dot)Scholl(at)NewCityStage(dot)org or 717-421-3834.
Press tickets:
Contact Publicist & Group Sales Manager Ginger Dayle at Ginger(dot)Dayle(at)NewCityStage(dot)org or 215-603-9600.
Please request all interviews and complimentary press tickets at least 24 hours in advance. 
ABOUT NEW CITY STAGE COMPANY:
New City Stage Company, founded in 2006, is dedicated to presenting high quality professional theatre that engages audiences on a variety of levels; not only entertaining them but also encouraging awareness of issues relevant to the community. We draw our season from contemporary and classical works, with a special focus on including Philadelphia premieres from local playwrights, and form storytellers whose work is not normally found in the region.