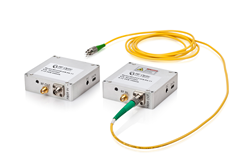 Tel-Aviv, Israel (PRWEB) September 05, 2017
RFOptic, a leading provider of RF over Fiber (RFoF) and Optical Delay Line (ODL) solutions, announced today that a major U.S. Research Laboratory has concluded the testing of its programmable 6 GHz RFoF solution successfully. The tests show that the solution is a viable alternative for replacing coax (copper) solutions.
"The tests showed that RFOptic's technology enables cable replacement without degradation of the RF performances. In one of the tests, the RFoF link even outperformed the copper link. Furthermore, the QPSK constellation test showed that the RFoF clusters were more compact than the copper clusters," explained Oz Abramson, VP at RFOptic. "We are proud that the research lab has tested our programmable RFoF solutions that keep on making their mark in several market segments, from defense to broadcast to telecommunications. At RFOptic, we will continue serving our clients with this new product line that has excellent cost/performance, full flexibility in RF and optical parameters, a set of diagnostic tools and a user friendly interface to manage the RFoF link. The programmable RFoF solutions are sold in 3 frequency ranges from 0.0005 GHz to 2.5GHz, to 3.0GHz and to 6.0GHz respectively."
RFOptic's RF over Fiber (also known as RF over Glass) link is comprised of Tx and Rx modules that are identical in size. GUI adjustable LNAs and attenuators allow the Noise Figure, Input P1dB, System Gain, and IP3 parameters to be adjusted for a wide range of values to customize the dynamic range of the link. Furthermore, the software controlled LNA of the transmitter module enables the solution to accept RF input powers as low as -100dBm/MHz for wideband applications. Additionally, Noise Figure as low as 6 dB is achieved by adjusting LNA power which is important for achieving high SNR for low RF input power.
For more details see https://www.rfoptic.com/product-category/rf-over-fiber/programmable-rfof/
The series of tests performed by the research lab included:

Spur Tests (SFDR) with single and multiple tones,
Gain Flatness
Latency
USRP
Spectral Regrowth
Error Vector Magnitude
QPSK Constellation
In addition to programmability that improves RFoF link performance, the solution also includes special diagnostic capabilities to enable the user to analyze both the RF link and the optical link and locate a problem without using expensive measurements tools.
RFOptic solutions are marketed in the North American market by Summit Communications Solutions, Corp, a NJ Corporation, with extensive experience in RF Over Fiber and Optical Delay Line Solutions.
About RFOptic
RFOptic is a leading provider of RF over Fiber (RFoF) and Optical Delay Line (ODL) solutions. For the last 20 years, its team of industry veterans has been developing, designing and integrating superior quality technology for a wide range of RFoF and ODL solutions. The solutions are deployed at various industries, including broadcasting, aviation, automotive, and defense. RFOptic offers its customers and OEMs various off-the-shelf products, as well as custom-made solutions optimized for a wide range of RFoF products at affordable prices and with a quick turnaround. RFOptic makes it its mission to help its customers to turn innovation into real business by providing them with the highest quality, cutting edge RFoF solutions as well as customized solutions based on individual requests and objectives.
For more information about RFOptic, please visit http://www.rfoptic.com.
About Summit Communications Solutions
Summit Communications Solutions, Corp., is RFOptic's longtime partner in delivering high quality RFoF, and ODL Solutions to North American defense contractors, recording studios and research laboratories and universities. SummitCSC consultants provide technical and commercial support for the whole North American region.
For more information about SummitCSC, please visit http://www.summitcsc.com
Media contact:
Mr. Oz Abramson, VP
E-mail: marketing@rfoptic.com