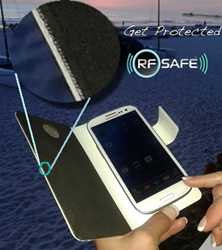 Cell Phones Carried on Belt clip or in Pants Pocket May Harm Reproductive Health
San Francisco, CA (PRWEB) April 11, 2014
As the leading cell phone radiation safety specialist in world, RF Safe Corporation (http://www.rfsafe.com) has recently launched a new line of 1mm thick Peel-n-Shield™ for RF Safe smartphone flip cases as their answer to the growing concern of men safely carrying a cell phone in their pocket without excessive microwave exposure to male reproductive organs.
Most scientific and media debate on cell phone hazards and the safety of cell phone radiation has been focused on the risk of brain tumors, but a growing body of research points to a new concern – sperm damage.
The published abstract can be found on the US National Library of Medicine National Institutes of Health website titled "Effects of the exposure to mobile phones on male reproduction" 2012 May-Jun;33(3):350-6. doi: 10.2164/jandrol.111.014373 (La Vignera 2012) http://www.ncbi.nlm.nih.gov/pubmed/21799142
The studies indicate, "The results showed that human spermatozoa exposed to RF-EMR have decreased motility, morphometric abnormalities, and increased oxidative stress, whereas men using mobile phones have decreased sperm concentration, decreased motility (particularly rapid progressive motility), normal morphology, and decreased viability. These abnormalities seem to be directly related to the duration of mobile phone use."
According to RF Safe, young men wanting to start a family that wish to protect their manhood may want to invest in an RF Safe cell phone flip case under $40 that keeps a radiation shield between the cell phone users body and wireless device.
RF Safe smartphone cases have a flip cover that is lined with Peel-n-Shield™ made from sliver plated microwave shielding that is incorporated into a soft foam to provide maximum cell phone radiation protection along with unmatched protection for a smartphones display screen.
RF Safe flip cases are very stylish and designed in such a way that makes them very effective in shielding phone radiation from a cell phone user's body by simply keeping a deflective barrier between the user and wireless device.
RF Safe flip case radiation shields provide a barrier against phone radiation without compromising the aesthetics as well as functionality of the cell phone. Unlike pouches that block RF Radiation which are commonly found online, RF Safe flip cases allow full access to all the phones ports and features without removing the flip case.
According to John Coates, RF Safe's Founder, "Since RF Safe's conception in 1998, its always been our focus innovating products that will exceed the demands of our customers to use wireless products without unnecessary health risk."
Aside from flip cases that deflect cell phone radiation, RF Safe has also produced a wide array of cell phone radiation safety products that people surely love using. Safe cell phone users enjoy RF Safe Air-tube headsets for radiation free quality sound when using a smartphone to play music or taking private calls at the office.
It is not only RF Safe's mission to provide the best solutions for reducing RF exposure but to make sure that all of RF Safe's products are highly functional, well crafted and worthy to be used by RF Safe's customers around the world according to whatever purpose they have in mind.
"RF Safe's technical and sales staff looks forward to helping concerned cell phone users in any way that we can - RF Safe's 16 yrs of experience in the safest ways to reduce cellphone radiation exposure is only a click or call away." says Coates
For more information about RF Safe products, you can visit RF Safe at http://www.rfsafe.com or call 1-800-977-9984.