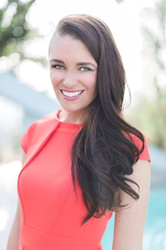 (PRWEB) April 04, 2017
Regan is a hugely successful 27 year old multi millionaire global change-maker, thought leader, serial entrepreneur, philanthropist, global speaker and mindset coach. She is the founder of Regan Hillyer International; a company dedicated to providing personal development and business training to men and women who have a big message they want to share with the world.
Regan started her entrepreneurial journey at just 17; leveraging her success through investing in her own coaches and mentorships. To this day, she is deeply grateful for the first mentor she ever had that impacted her in the most profound way. It was because her mentor believed in her and because someone 'thought it was possible' for her at such a young age; that it gave her the motivation. This is why she wants to give another young person this unbelievable offer; to give a teenager the belief, the motivation, the mindset tools and strategy to change their life forever.
Regan is always giving back, especially when it comes to education (her charity projects include building schools for underprivileged children). She now she wants to offer this incredible opportunity to a young person to change their life.
Regan has trained thousands upon thousands of people - helping them build multiple six and seven figure businesses location free - using powerful mindset changing tools and cutting edge business development strategies. She specializes in helping experts uncover their true message and launch powerful personal brands, helping them make a big impact and build a legacy.
"I am living and breathing my message that you absolutely can have it all. I am living my dream life and I help others to do the same. I want you to tap into your expansive thinking. I want to you to completely throw out all the old systems and strategies you have ever been taught - and society has ingrained in you - that simply aren't serving you anymore."
The Young Influencers Scholarship is for a young person with huge dreams who wants to impact the world.
What is included in the amazing scholarship prize:
Be Your Brand Young Influencer Mastermind in Bali: the young winner will come to Bali for 3 days for a mastermind hosted in an incredible villa (luxury accommodation in the villa, Bali airport transfers and food paid for) with other young influencers. The mastermind will be all about digging deep into their message that they were born the share with the world. With a focus on branding and how to use social media and the internet to explode to make a massive amount of impact.
Access to 12 month's worth of online mindset coaching: this is Regan's powerful membership site, Success Hub, with weekly coaching and new content posted weekly. This is all about the internal mindset work which is how Regan created her huge success and millions and where she helps others to do the same. The young person will learn how to shift their mindset to change every single area of their life to set them up for the future. There are hours upon hours worth of incredible content here.
Online Empire Builder 12 Week Course: this is all about business strategy. The young influencer will learn about unleashing their impact in the world using incredible strategies online and how to run a global business from anywhere in the world.
Access to 12 months private one on one mentoring with Regan's head of coaching, Robyn Nikora. The young person will get the most amazing support to make their dreams come true be utilizing all the education and tools Regan Hillyer International are giving away.
Access to 12 months one on one private mentoring with Regan herself! The young influencer will get direct access to daily support: helping the young person through anything they need; in any area of their life to shift, uplevel and as fast as possible.
Application Process
In order to find a right fit, the successful candidate must adhere to the following criteria:

Must be aged between 13-17 years old.
The young person must know that they are 'here to change the world'.
Applications must be by video no longer than 3 minutes answering the following two questions:
Why should you receive this scholarship, i.e.why should you be the winner?
What is your big dream that you're looking to create in the world?

Video applications must be sent to coaching(at)reganhillyer.com
Deadline: video applications must be sent in no later than Saturday 8th April at midnight (PST)
Regan Hillyer International rewards people that move fast and are super committed! We wish all the young applicants good luck and success.