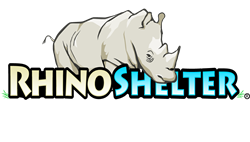 Rhino Shelter has sold its 100,000th one-car garage!
(PRWEB) June 07, 2014
MDM Shelters LLC is proud to announce the sale of the 100,000th Rhino Shelter one car garage. With different styles, and sizes available, Rhino Shelter's marquee single-car garage is the first one to achieve this milestone.
Rhino Shelter's one car garage are made using galvanized steel and offer rugged durability, without sacrificing ergonomics. Although the one car garage is designed to accommodate a standard car, it can also be used to house multiple motorcycles and ATVs. This flexibility is one of the key reasons why the one car garage is one of Rhino Shelter's bestsellers.
Rhino Shelter is an industry leader in portable garages and it shows in the build-quality of the one-car garages. The one car garage consists of a heavy duty galvanized steel frame that is pre-drilled and cut, allowing for easy and hassle-free assembly. The heavy-duty frames are designed for maximum strength and the two double-zipper doors (front and back) allow for easy access into the garage space. Heavy-duty grommets and an anchoring kit ensure that the one car garage can remain standing and offer protection in the harshest of conditions.
The one car garage has been the first portable garage to hit the 100,000 sold landmark and other products in the range shall soon be achieving the same milestone.
About Rhino Shelter:
Rhino Shelter is one of the biggest names in the instant-garage and portable building industry. Established in 2001 by MDM Shelters LLC, Rhino Shelters has grown to become a market leader in portable building sales. With a product range that includes party tents, greenhouses, carports, and relief tents, Rhino Shelter is at the forefront of using the latest and best materials to create products that are unsurpassed in terms of quality and value-for-money.
For additional information, contact MDM Shelters LLC at 800-447-7079.
Media Contact Details-
Name - Don Skoldberg
Email - dons(at)mdmshelters(dot)com
Phone - 800-447-7079
Address- MDM Products, LLC.
105 Woodmont Road
Milford CT, 06460