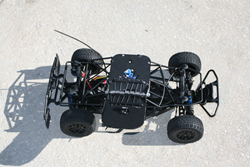 RhinoForce S2, a self-righting flip system, remotely flips overturned model cars and trucks.
(PRWEB) March 19, 2014
Whether you're a serious radio-controlled (RC) model car racing enthusiast or just a casual hobbyist, three men from Florida are ready to make your life much better.
Vincent Dimino, Thomas Pischiera and Rico Pischiera have developed RhinoForce S2, a new RC add-on that will flip overturned model cars and trucks remotely. RhinoForce S2 is a lightweight, spring-loaded device that "self-rights" these cars with the flip of a switch.
"No one wants to make that 'walk of shame' when your model car or truck overturns," says Pischiera. "Sometimes it can be quite a distance and that can take a lot of the fun out of short course truck and car racing. It's not only embarrassing, it can be dangerous at times."
After forming Torsional Concepts LLC to address this problem, Dimino, Pischiera and Pischiera have spent the past year designing and testing RhinoForce S2, the first hobby RC vehicle self-righting system. Compact, durable, lightweight and easy to assemble, the self-righting flip kit is ready to go to market.
"This will revolutionize RC model car and short course truck racing," Pischiera says. "It will make it much more fun and safer, too. This system allows the users to stay off busy streets and away from other RC vehicles. Once the vehicle is flipped back onto its wheels, it can be safely driven back to the controller who can reset the flip plate."
In order to market these self-righting flip kits, Torsional Concepts needs to procure a bulk order of parts and equipment. About $25,000 in additional funding is required to keep the project moving forward.
Toward that end, Dimino, Pischiera and Pischiera have launched a Kickstarter campaign to raise funds. The hope is that RC short course truck and model racing enthusiasts from all over the country will contribute to the campaign so that RhinoForce S2 will become a reality.
To make a contribution or view a video that shows the RhinoForce S2 in action, visit http://www.kickstarter.com/projects/1671224654/rhinoforce-s2-first-up-right-system-for-rc-hobby-c.
Depending on their donation level, contributors will receive RhinoForce decals, T-shirts, coffee mugs and prototypes of the product itself.
"This is a great device and we want to make it available to all RC racing fans," says Pischiera. "The RhinoForce S2 is going to make RC racing much more enjoyable for those who own model cars and also the people who like to watch. But we do need some support from the RC racing community."
For further information, visit the RhinoForce website, http://www.torsionalconcepts.com, or http://www.kickstarter.com/projects/1671224654/rhinoforce-s2-first-up-right-system-for-rc-hobby-c. Pischiera can be contacted directly at tpischiera(at)gmail(dot)com.