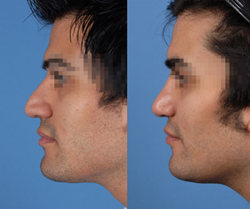 This anatomical area, the upper lateral cartilage, is crucial for obtaining optimal outcomes in rhinoplasty.
(PRWEB) February 11, 2016
In a new paper published in the latest issue of Plastic and Reconstructive Surgery, Dallas plastic surgeon, Dr. Rod J. Rohrich, and colleagues, examine and underscore the importance of upper lateral cartilage in rhinoplasty surgery. Dr. Rohrich outlines recommendations for rhinoplasty surgeons when addressing this vital area.
The upper lateral cartilage in rhinoplasty, refers to a pair of triangular, sail shaped cartilage structures that provide support for approximately the middle third of the nose.
Dr. Rohrich points out that this element of rhinoplasty is often treated as being of secondary importance within the existing literature on rhinoplasty, but asserts that the importance of this structure has been historically understated. The paper makes note that, "Even minor alterations to the upper lateral cartilages subsequently affect projection, width, nasal dorsal shape, and tip rotation. Throughout the years, the importance of preserving the upper lateral cartilages has not been fully recognized, emphasized, or completely understood."
"This anatomical area, the upper lateral cartilage, is crucial for obtaining optimal outcomes in rhinoplasty," says Dr. Rohrich. "It's a unique area within nasal anatomy that significantly affects both the functional aspects of the nose, and the aesthetics of the final results."
In the paper, Dr. Rohrich offers detailed suggestions and best practices on how to approach the upper lateral cartilage for common types of rhinoplasty such as patients who have a nasal hump, or when performing nasal tip refinement. Surgical approaches vary wildly
"Aesthetically, this area has a tremendous influence on the dorsal lines and should be preserved whenever possible," says Dr. Rohrich. "It also directly affects the nasal tip, allowing for change in rotation, shortening, and refinement."
About Rod J. Rohrich, M.D., F.A.C.S.
Dr. Rod J. Rohrich is a Distinguished Teaching Professor and Founding Chairman of the Department of Plastic Surgery at UT Southwestern Medical Center in Dallas, Texas. Dr. Rohrich graduated from Baylor College of Medicine with high honors, and completed his Plastic Surgery training at the University of Michigan Medical Center and fellowships at Massachusetts General Hospital/Harvard (hand/microsurgery) and Oxford University (pediatric plastic surgery). He is Chairman of the Dallas Rhinoplasty Symposium, Founding Chairman of the Dallas Cosmetic Symposium, President and Founding Member of the Alliance in Reconstructive Surgery, and a Founding Partner of the Dallas Plastic Surgery Institute. Dr. Rohrich has also served as president of the American Society of Plastic Surgeons, the largest organization of board certified plastic surgeons in the world. He repeatedly has been selected by his peers as one of America's best doctors, and twice has received one of his profession's highest honors, the Plastic Surgery Educational Foundation Distinguished Service Award, which recognizes his contributions to education in plastic surgery. Dr. Rohrich participates in and has led numerous associations and councils for the advancement of plastic and reconstructive surgery.