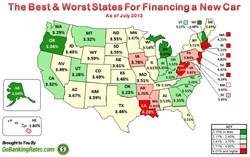 Anyone paying upwards of 5% or higher on a car loan is getting a bad deal.
Los Angeles, CA (PRWEB) August 22, 2013
A new GoBankingRates.com study discloses the states with the highest auto loan rates in America. The study investigated the best and worst rates nationwide, with the North East containing the most states with the highest rates, while the West Coast boasted lower auto loan rates overall.
See the geographic breakdown here: http://bit.ly/153no2L.
Although the average interest rate for a new vehicle is 3.65% APR nationwide, state averages varied from a high of 5.11% in Rhode Island to a low of 3.03% in Michigan.
"Cars are depreciating assets, which means it's never smart to overpay in interest when purchasing one," said Casey Bond, GoBankingRates.com managing editor. "Anyone paying upwards of 5% or higher on a car loan is getting a bad deal."
The states with the highest average auto loan rates ranked as follows:
Rhode Island: 5.11%
Connecticut: 4.82%
New Jersey: 4.47%
Massachusetts: 4.21%
Louisiana: 4.20%
West Virginia: 4.16%
Delaware: 4.14%
Washington, D.C.: 3.95%
Mississippi: 3.91%
Pennsylvania: 3.84%
Additional Findings:

The states with the best average auto loan rates were Michigan, Oregon, Alaska, New Hampshire, South Carolina, Vermont, Oklahoma, Utah, Washington and North Carolina.
The lowest auto loan rates in the country come from California-based Burbank City Federal Credit Union and Oregon-based First Community Credit Union, which offer a 0.99% APR base rate for 36-month terms.
The highest new auto loan base rate in the country is 12.5% APY for a 48-month term.
The study lists the best auto rates for 36-, 48- and 60-month terms for each of the top and bottom 10 states.
For more information, visit http://bit.ly/16wPfbg.
About This Study
The data from this study was compiled using the GoBankingRates.com interest rate database, which is powered by Informa Research Services and aggregates rates from more than 4,000 U.S. financial institutions. This study examined base rates* offered by banks and credit unions on new car loan products, using a statewide average of rates to determine ranking. Auto loan rates are current as of July 24 and are subject to change.
Base rate refers to the lowest available interest rate offered by an institution for a particular loan product.
About GoBankingRates.com
GoBankingRates.com is a personal finance website that connects consumers with the best interest rates nationwide on savings, CDs and checking accounts, as well as auto loans. GoBankingRates.com's editors have been featured on several top media outlets such as US News, Yahoo! Finance, Forbes, The Street, LA Times, Huffington Post and more.
Contact:
Connie Lundegard
GoBankingRates.com
PR@GoBankingRates.com
310.297.9233 x112