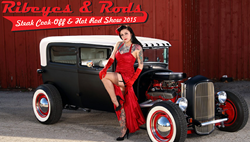 Richardson, TX (PRWEB) June 10, 2015
The Steak Cook Off will have an entry fee of $150 and pays out $1500 for 1st place, $750 for 2nd, $500 for 3rd, $350 for 4th, $250 for 5th, and $100 for 6th - 10th. The appetizer entry fee is $25 and pays $200 for 1st place, $100 for 2nd, and $50 for 3rd Place. The top place finisher that uses GrillGrate for the steak cook off will receive an additional $500, as well as another $500 for using a PK Grill. Set up for the cook off is from 8 to 10am with a cooks meeting at 10am. The appetizer turn in is from 1 to 1:15pm, the steak turn in is from 2:30 to 3pm, and awards will be presented at 4:30pm. enter the Steak Cook Off online at http://www.steakcookoffs.com
The Hot Rod Show will have a $50 entry fee and pays $2000 for 1st Place, $1000 for 2nd, and $500 for 3rd place. There will also be a people's choice award of $1000. Hot Rod parking begins at 10am and awards will be presented at 4:30pm. To register online visit http://www.LinearAutomotive.com/ribeyesandrods and click on the "Register Your Hot Rod" button.
This event will take place rain or shine and includes lots of fun for the whole family including a kids area with a magician, dunk booth, face painting, and snow cones. Be sure to check out the outdoor stage with live bands & local artists like Jeff Hopson, Chuck Ligon, Aubrey Lynn England, Brad Purdom, and more. The after show party will take place at The Tavern on Main Street 115 East Main Street Richardson, Texas 75081.
Sponsors include The Tavern on Main Street, Linear Automotive, Steak Cook Off Association, GrillGrate, Portable Kitchen, Legacy Texas Investment Group, MAS Law Firm, Pirates of the Primeribbean, Sysco, Club Calypso, Debra Gann Insurance, Dripping Springs, Herman Marshall Whiskey, DJ Sound & Lighting, Four Bullets Brewery, KNON 89.3, Hot 93.3, Kwik Kar, Murphy Meat Market, and Sam's Club.
Get the main event flyer at http://linearautomotive.com/ribeyesandrods2015.pdf. Join the fun on Saturday June 13th starting at 11am for the public. For more information visit http://www.LinearAutomotive.com/ribeyesandrods