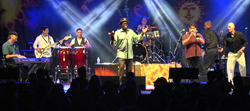 Seamless and infectious. - Los Angeles Times
SAN RAFAEL, Calif. (PRWEB) June 17, 2019
Ricardo Lemvo & Makina Loca present the Afro-Latin Diaspora, connecting back to Mother Africa via the Cuban clave rhythm. Lemvo is equally at home singing in English, French, Spanish, Portuguese, Lingala and Kikongo.
Since forming his Los Angeles-based band Makina Loca in 1990, Lemvo has refined his craft and vision, raising his joyous voice with strength, singing songs that celebrate life, and most importantly, inspiring his audiences to let loose and dance away their worries.
Bright horns, fat bass lines, amazing percussion and melodies that linger for days - be prepared for a street party that must be danced through!
Salsa Marin partners with The Osher Marin JCC for this event and will be providing pre-concert salsa dance instruction.
The venue offers a pop-up restaurant, Kid Zone with playground & hands-on project and festival shopping made possible by Good Will Industries.
BOILER PLATE:
WHAT: Afro-Cuban dance music, outdoors in a beautiful, natural, safe, family-friendly setting.
TICKETS: From $26. Kids 17 and under free. Details available at http://www.marinjcc.org/summernights
WHEN: Sat. July 20 @ 7 p.m. Doors: 6:15 p.m. Gen Ad/ 6 p.m. VIP/Reserved
SEATING: Gen Adm turf or rear chairs. Reserved Table Seats, Cab Tables & Picnic Tables available.
WHERE: The Osher Marin JCC, 200 N San Pedro Rd, San Rafael, 1/2 mile E off 101
PARKING: Ample free street and lot parking.
MORE: Dinners, snacks, coffee, tea, sodas, beer, wine, and cocktails available for purchase or bring a picnic. No glass or alcohol allowed thru gates.
The Osher Marin JCC's outdoor music series has been created to celebrate diversity, discover commonalities, and bring generations together through live music. Four consecutive Saturday nights of great music will take place under beautiful Marin Skies in an intimate and beautiful setting.
2019 Summer Nights Series
7/13: New California Soul – Midtown Social
7/20: Afro-Cuban – Ricardo Lemvo & Makina Loca
7/27: Americana Rock n Roll Blues – Danny Click & the Hell Yeahs
8/3: Latin Big Band – Pacific Mambo Orchestra