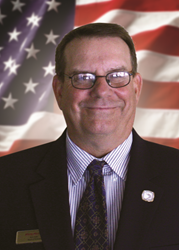 "Rich provides the board of directors with executive experience, a commitment to leadership development, and an understanding of the importance of youth programs," said William L. Smith, chair of the board of directors of the Young Marines
Washington D.C. (PRWEB) September 02, 2015
The members of the board of directors of the Young Marines, a national youth organization, announce a new board member - Richard Yoder, a retired Colonel in the Marine Corps.
Yoder's distinguished military career spanned 31 years, and he served in some of the most important and sensitive assignments including Head, Promotion Branch, Headquarters Marine Corps where he ensured timely promotions for Marines across the entire Corps. In this assignment he was responsible for ensuring all statutory requirements were met, and he briefed the Senate Armed Services Committee on Marine Corps promotion policies.
In 2002, under his leadership, the Promotion Branch received the Secretary of the Navy's Award for Innovation in Business Practices.
In 2006, Rich served as the vice director, J1, Joint Staff at the Pentagon where he managed and directed a large staff of military and civilian employees. He was tasked by the Chairman, Joint Chiefs of Staff, with manpower and human resource policy, strategic and operational planning for manpower related issues, and coordination of sensitive personnel and manpower issues between the services and the combatant commanders.
After retiring from active duty, Yoder supported the Department of Defense's Executive Leadership Development program where he was responsible for strategic planning, operational development and tactical implementation of an experiential immersion training program for Department of Defense (DOD) civilians. This program received recognition as the premier training program for civilians in the DOD and a model for the federal government.
"From a personal and professional standpoint I am very pleased to have Mr. Yoder serve on our board of directors," said Mike Kessler, national executive director and CEO of the Young Marines. "I have known him for many years, have traveled with him and spent a great deal of time with him. He is a quick study and will be a tremendous asset and will truly enhance our strategic development."
Throughout his life, Yoder has been an example for all to follow. As a former Eagle Scout, he volunteered and served as an assistant scoutmaster with Boy Scout Troop 1400 in Dale City, Virginia, from 2000 to 2009, proudly guiding both his sons and scores of others to their Eagle Scout rank.
In fact, he has consistently supported youth activities and sports. He received the Military Outstanding Volunteer Service Award Medal, coached Pop Warner Football in Northern Virginia, served as an Assistance Scout Master, and currently volunteers at a high school as a varsity level assistant football and wrestling coach.
A graduate of Rutgers University with a bachelor of arts degree in History, Yoder is also a graduate of Marine Corps Amphibious Warfare School, Marine Corps Command and Staff College, and the Armed Forces Staff College.
Yoder joins Young Marines board members William L. Smith, chair; William J. Walker; Michael B. Kessler; Herbert N. Harmon; Dina R. Dillon; Catherine Payne; William C. Barnes; Harold Gene Overstreet and Angela Salinas.
"Rich provides the board of directors with executive experience, a commitment to leadership development, and an understanding of the importance of youth programs," said William L. Smith, chair of the board of directors of the Young Marines. "Having served in important positions at the Pentagon, after his retirement from the Corps, he worked with the Department of Defense's Executive Leadership Development program, a premier program of the federal government. Rich is a superb addition to the Young Marines Board."
The Young Marines is a national non-profit 501c(3) youth education and service program for boys and girls, age eight through the completion of high school. The Young Marines promotes the mental, moral and physical development of its members. The program focuses on teaching the values of leadership, teamwork and self-discipline so its members can live and promote a healthy, drug-free lifestyle.
Since the Young Marines' humble beginnings in 1959 with one unit and a handful of boys, the organization has grown to over 300 units with 11,000 youth and 3,000 adult volunteers in 46 states, the District of Columbia, Germany, Japan and affiliates in a host of other countries.
For more information, visit the official website at http://www.youngmarines.com.