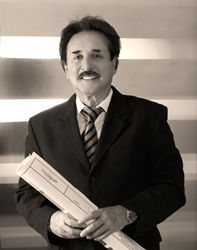 Richard Sponzilli is a maverick and leader in his community...committed to excellence, teamwork and a positive approach. Christian Evans, Owner of Evans Alliance
Fairfield, NJ (PRWEB) May 26, 2015
Once a year, the distinct honor of The Dean McNulty Service Award is attributed to one outstanding community leader for their unrelenting dedication and hard work. The 2015 winner, Richard Sponzilli, has served his country and community for decades by offering support, positivity and jobs for people in need. He has uplifted the people around him by donating his time and resources.
The Dean McNulty award was founded on the ideals and practices of Dean William McNulty who organized parishes and built countless churches, boys and girls schools, and St. Joseph's Hospital, located in Patterson, during the late 19th century. Since his death in 1922, The Dean McNulty Service Award has been bestowed to individuals who truly stand apart. Previous winners include Dina Manzo, from Real Housewives of New Jersey, for her work with children and Dr. Lawrence Barnett for his work in hospitals.
Richard Sponzilli was born and raised in Paterson, New Jersey. After high school he was drafted into the Army and sent to Vietnam. Upon returning home, Rich Sponzilli received his Bachelor of Arts in Education and Masters of Psychology from William Paterson University. Rich Sponzilli began teaching after college but quickly realized that his salary was not enough for his growing family. He started cutting lawns when he was not fulfilling his duties as a teacher and soon found that his business was taking off. Richard Sponzilli struggled with leaving his position as a teacher because of his desire to give back to his community but soon found other outreach methods. Rich Sponzilli has continued to diligently work with his community by coaching basketball, participating in the National Kids Construction Club and helping young autistic men in his area. He also believes in second chances and helps others find theirs by providing an organized, disciplined and positive approach to young adults who have completed the Straight and Narrow Drug and Alcohol Rehabilitation Center. Richard Sponzilli is a source of compassion, kindness and support for his community and anyone with whom he has contact.
"Seeing Rich Sponzilli win The Dean McNulty Award for Service was a wonderful experience for everyone at the event. He has tirelessly shown dedication towards giving people a second chance and helping them when they are in need. As Sponzilli Landscape Group's advertising agency, Evans Alliance is proud to work with such a maverick and leader in the community; we are constantly in awe of the Sponzilli's commitment to excellence, teamwork and positive approach" Christian Evans.
For more information about Richard Sponzilli visit http://www.sponzilli.com
For more information about Evans Alliance visit evansalliance.com