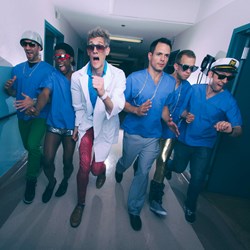 If you like dancing, you're gonna like this band. If you like making love, you're gonna love it. – Jason Mraz
Seattle, WA (PRWEB) October 28, 2013
Richie Aldente releases "Disco Baby."
"If you like dancing, you're gonna like this band. If you like making love, you're gonna love it." – Jason Mraz
Richie Aldente is among a handful of rising Seattle bands that are redefining the sound of the post-grunge city. With an intelligent fusion of dance beats, yacht rock, disco, and contemporary hip-hop, the band creates ferociously infectious music that is smartly crafted and unabashedly fun-loving. While their sound hints of influences from the '70s and '80s, it is decidedly modern, appealing to a new generation of listeners who were born long after the eras that inspired it. Riding the momentum of their debut album, For The Ladies, the band recently headed back into the studio to record their new album Disco Baby, scheduled for release in the fall of 2013. Marked by quantum grooves, solid hooks and fresh harmonies, Disco Baby is an irresistible invitation to get on your feet.
Richie Aldente is Tim Kennedy (Earshot Jazz nominee for Best New Artist) on keys and vocals, Ian Sheridan (Jason Mraz) on bass, Dan Rainard on guitar, Jimmie Herrod on vocals, Geoff Sheridan on keys, and Claudio Rochat-Felix (Slick Rick) on drums. The band's debut album, For the Ladies, received instantaneous praise, quickly established the band as one of the most popular groups on the thriving Seattle club scene, and the video single, "Cougar Hunt," a quirky homage to May/December romances, has received over 10,000 hits on YouTube. Disco Baby, an 11-track album, features guest performances by pioneer saxophonist Skerik (Critters Buggin, Bandelabra, Garage a Trois, Syncopated Taint Septet, Crack Sabbath) and rap artist Illspokinn, who also appeared on "Cougar Hunt."
In just a few short years, Richie Aldente has cultivated a loyal and spirited following. Live performances are high-energy romps complete with disco balls, glittering costumes, and dance-inciting shout outs to the crowd. "We're excited about Disco Baby," says Claudio. "We feel that we were able to capture the live feel of the band and still maintain the modern production values we've become known for from our first album. We expanded from a trio to a six piece between recordings and we're excited to present the new members on this record." "Disco Baby" was recorded and mixed by Ian Sheridan and was mastered by Ronan Chris Murphy (King Crimson).
You can learn more about Richie Aldente at http://www.richiealdente.com.
For more information, images, or to arrange for an interview with Richie Aldente, please contact Melissa Zeigler at Powderfinger Promotions: melissa(at)powderfingerpromo(dot)com.
Powderfinger Promotions–Independent Radio Promotion and Publicity. Since being founded in October 1994, Powderfinger has come to be regarded as a top indie radio promotion and publicity firm with ties across North America.