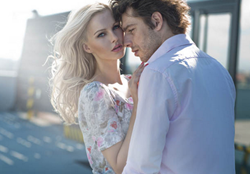 (PRWEB) March 08, 2014
Many surveys, studies, and opinions abound concerning the dating habits of millionaire men and women. Women around the globe dream of a fairytale romance where 'prince charming' or a 'knight in shining armor' will fall in love with them and take them back to his castle where they will live happily ever after. However, the big question is; do rich men and women desire non-millionaire partners or do they prefer wealthy ones? The answer might be surprising. It is actually a draw; the answer is both yes and no.
A recent study published in the Journal of Personality and Social Psychology entitled "Peacocks, Porsches, and Thorstein Veblen: Conspicuous Consumption as a Sexual Signaling System" suggests that for the most part, rich men parade their wealth as a means of bedazzling their female admirers much like a peacock does. They are not necessarily seeking a committed relationship and it does not matter whether the women are millionaires or non-millionaires. The research goes on to say that; "conspicuous consumption may prove an effective display for men when seeking to outcompete other men for short-term mates."
On the other hand, even a casual observation of famous couples in popular media would suggest that rich women more often than rich men; choose to be in a relationship with a non-millionaire or a less financially successful partner.
Miss. Sandy of MillionaireDate.org made the following comment: "Even in Hollywood we can see this dating preference displayed. Not every actor or actress has a partner who is equally financially successful. However, it seems as though more actresses than actors are apt to choose partners who are not wealthy but instead one who provides a fulfilling relationship for them. To begin with, there is Halle Berry and Olivier Martinez as well as Julia Roberts and Daniel Moder."
Miss. Sandy went on to say that, "I am sure if we look even in our neighborhoods we might be able to identify at least one couple that is a rich man with a non-millionaire wife. Although there is no denying the flirtations of rich men and shows like the Bachelor that seem to highlight this; there are rich men around the world who are seeking all levels of romantic friendships from non-millionaire women and that is why our website continues to be successful."
So does a rich man prefer a 'damsel in distress' or a princess? He likes them both. Does a rich woman prefer a prince or a pauper? She likes them both. A person just needs to read a newspaper, go online, or listen to the radio to realize and appreciate that both these statements are true.
About MillionaireDate.org
MillionaireDate.org is the largest millionaire match club in the world. It has more than 2,000,000 active millionaire members which makes it a great place for successful singles and admirers to connect.
To join the hot topics,please visit http://www.millionairedate.org/topic_vote.