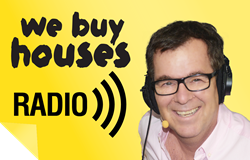 When you're starting out in a new career path it's highly advised to seek out and find mentors or materials that could help you learn the ropes of the trade.
(PRWEB) September 04, 2014
Rick Otton, a best-selling author and property coach, reached out to his long-term students and came up with a list of important characteristics that successful property investors possess. He breaks down the top 8 qualities in the latest episode of We Buy Houses Radio.
"I read a study once claiming that people would only try things 3 times before they quit on that activity. Based on this study, it seems that no one sticks around long enough to learn the ins and outs of a hobby or a potential career path. This, however, shouldn't be the norm, because you need persistence to become a successful property investor," Mr. Otton shared.
"If ever you find it hard to become persistent in buying and selling houses for sale, always keep in mind that persistence is likened to having goals. People must know the reason why they're doing something, because when you know why you're doing things you won't give up that easily," he added.
"Listening is also a big part of a fruitful career in property investment. Listening carefully to clients helps you see the big picture and help you prioritise the client's needs over their wants. Being able to do this is another important skill for every aspiring property investor, since it helps focus the deal on the bare necessities and not on the superficial details of a home like what's the colour of the carpet or if the walls have the perfect colour painted on them," Mr. Otton explained.
Mr. Otton then invited all aspiring property investors to tune in to his weekly podcast episodes, so they can expand their knowledge base about the basic dos and don'ts when creating a real estate portfolio.
"When you're starting out in a new career path it's highly advised to seek out and find mentors or materials that could help you learn the ropes of the trade. With that in mind, I make sure that these podcasts are chock-full of new and creative strategies that make property investment more efficient, effective, and profitable so that all people tuning in will be able to pick up golden nuggets of information they can use in actual transactions," he said.
The We Buy Houses Radio is a weekly broadcast featuring Rick Otton and his creative solutions on how to solve common real estate problems investors face today. Visit http://WeBuyHousesRadio.com/ to catch all of the episodes, transcripts and other resources.
About Rick Otton
Australian property investment specialist, Rick Otton, has been developing, sharing and teaching his innovative real estate strategies for 23 years. As the founder and CEO of We Buy Houses, which operates in the US, UK, Australia and New Zealand he is known for introducing cutting-edge techniques that have enabled previously disenfranchised people to get out of the rental cycle and into their own homes.
His innovative low-risk, high-reward approach to Australian real estate investing has been featured in a variety of television programs and magazines, including Today Tonight, Hot Property and Australian Property Investor. His real estate book, published in 2012, ''How To Buy A House For A Dollar', voted by Money Magazine and Dymocks Book stores as one of the Top 10 Most Popular Finance Titles for 2013.
As well as conducting free seminars, workshops and conferences in the UK and Australia, Mr Otton releases a weekly podcast on iTunes, Creative Real Estate. In these he shares examples of real transactions, and you can listen to his students share their own experiences using his strategies.
Go to WeBuyHousesRadio.com to listen to Rick's free podcasts.