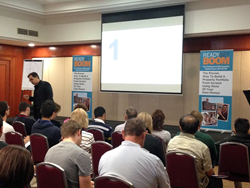 ...the traditional process requires people to give a huge cash deposit to purchase a house. Unfortunately, not everyone has the cash just lying around their house.
(PRWEB) April 13, 2014
Sydneysiders are now spending $40,000 or half of an average person's pay check annually to pay off their mortgage, the Sydney Morning Herald reported on 6 April 2014.
Hale Dale, Chief Economist of the Housing Industry Association, revealed that housing affordability will decline even further once interest rates rise.
"Housing affordability is a big issue for many Aussies, whether they are home buyers or property investors, since it's becoming harder and harder for people to enter the market as house prices continually increase," according to Rick Otton, owner and director of We Buy Houses.
"Don't get me wrong. The property boom benefits those that entered the market early on by increasing the value of their properties, but it creates a big problem for those who are just planning to climb the property ladder especially when they don't have the right amount of cash required for a deposit fee," he said.
Mr. Otton explained in a new interview for his Free Pack that lack of cash will only be a hindrance to home ownership when people don't think outside the traditional process of buying and selling a property for sale.
"The problem stems from the fact that the traditional process requires people to give a huge cash deposit to purchase a house. Unfortunately, not everyone has the cash just lying around their house," commented Mr. Otton.
"So if you don't have enough cash at the beginning of every transaction, there are still ways to make houses more affordable with seller finance strategies. The key to seller finance is in the flexibility of the terms. Rather than have a buyer come up with all the money now, a seller can let the buyer pay in increments for an agreed period. In that way a buyer isn't pressured to pay off the entire deposit amount today – which makes it easier to get in the property. And because the payment plan is easier, it allows the buyer to pay the asking price of the seller. In exchange, the seller gets to sell the property much faster and generate an income stream," he recommended.
For more information on how to build your property portfolio using seller finance, visit http://creativerealestate.com.au/freepack/ to gat a free copy of Rick Otton's Power Property Profits Pack.
About Rick Otton
Australian property investment specialist, Rick Otton, has been developing, sharing and teaching his innovative real estate strategies for 23 years. As the founder and CEO of We Buy Houses, which operates in the US, UK, Australia and New Zealand he is known for introducing cutting-edge techniques that have enabled previously disenfranchised people to get out of the rental cycle and into their own homes.
His innovative low-risk, high-reward approach to Australian real estate investing has been featured in a variety of television programs and magazines, including Today Tonight, Hot Property and Australian Property Investor. His real estate book, published in 2012, ''How To Buy A House For A Dollar', voted by Money Magazine and Dymocks Book stores as one of the Top 10 Most Popular Finance Titles for 2013.
As well as conducting free seminars, workshops and conferences in the UK and Australia, Mr Otton releases a weekly podcast on iTunes, Creative Real Estate. In these he shares examples of real transactions, and you can listen to his students share their own experiences using his strategies.
Go to CreativeRealEstate.com.au to listen to Rick's free podcasts.