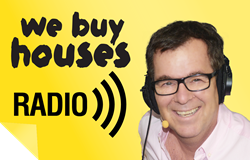 Mr. Otton encourages those who want to know more by seller financing to tune into his weekly podcast show We Buy Houses Radio to pick up tips on how to jumpstart your investment property.
(PRWEB) September 26, 2014
Rick Otton, a highly respected property coach, is offering his listeners a special treat in his newest podcast offering as he interviews one his UK students, Zoe, who traces her journey from a stay-at-home mum from the UK to a successful real estate investor, despite her lack of property knowledge and experience.
"A lot of women out there could relate to the story of my guest in this latest podcast, because she is a mum with three children. She devoted her life to her family, but she was always interested in entering the property market. However, she didn't know the first step to take. Her fate changed when a friend introduced her to me. After studying seller financing strategies, she's now able to put together deals like she's been doing it her whole life," Mr. Otton recalled.
"One of the transactions she recently finished was for an acquaintance who owned an investment property. Unfortunately, like many other novice investors out there, it did not give him the freedom that he imagined, and, instead, it gave him a ton of headache as tenants kept on calling him all the time. When he tried to sell the property, however, he kept getting low offers. Zoe managed to solve the situation through a simple strategy, and all parties were happy with the result," he said.
"Another deal that Zoe told in our conversation was about a property for sale that wouldn't sell, even though it wan't in negative equity nor was there anything wrong with its overall appearance. It's one of those circumstances where the home just wasn't selling, but through Zoe's knowledge of making the property more accessible to more buyers through the use of terms, they realised their dream of home ownership and the seller received piece of mind because they no longer had to worry about their house," he added.
Mr. Otton encourages those who want to know more by seller financing to tune into his weekly podcast show We Buy Houses Radio to pick up tips on how to jumpstart your investment property.
"You see, with an open mind, the knowledge to do things differently and the passion to pursue financial freedom, you may be able to follow in Zoe's footsteps. The journey may have its fair share of challenges. But if you surround yourself with the right people and follow a proven strategy, anything is achievable," he shared.
The We Buy Houses Radio is a weekly broadcast featuring Rick Otton and it features real-life solutions to common real estate problems investors face today. Visit http://WeBuyHousesRadio.com/ to catch all of the episodes, transcripts and other resources.
About Rick Otton
Australian property investment specialist, Rick Otton, has been developing, sharing and teaching his innovative real estate strategies for 23 years. As the founder and CEO of We Buy Houses, which operates in the US, UK, Australia and New Zealand he is known for introducing cutting-edge techniques that have enabled previously disenfranchised people to get out of the rental cycle and into their own homes.
His innovative low-risk, high-reward approach to Australian real estate investing has been featured in a variety of television programs and magazines, including Today Tonight, Hot Property and Australian Property Investor. His real estate book, published in 2012, ''How To Buy A House For A Dollar', voted by Money Magazine and Dymocks Book stores as one of the Top 10 Most Popular Finance Titles for 2013.
As well as conducting free seminars, workshops and conferences in the UK and Australia, Mr Otton releases a weekly podcast on iTunes, Creative Real Estate. In these he shares examples of real transactions, and you can listen to his students share their own experiences using his strategies.
Go to WeBuyHousesRadio.com to listen to Rick's free podcasts.