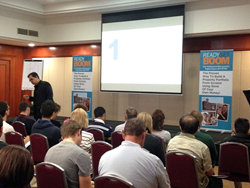 Seller finance strategies can be used by anyone anywhere in the country. Because of its flexibility, transactions can be adjusted based on people's specific needs.
(PRWEB) September 27, 2014
A new study from the National Landlords Association found that 28 per cent or 400,000 out of UK's 1.5 million private landlords admit that their investment property has been damaged by tenants in the past 12 months, 24Dash.com reported on 24 September 2014.
In light of this property news, Rick Otton, a highly respected property coach, explains that burned out landlords looking for a way out may use a rent-to-buy agreement.
"The study says that the riskiest place to rent out properties is at the North East where 48 per cent of the landlords encountered property damage, while there was minimal damage reported on the South East where only 21 per cent experienced problems with their tenants," according to Mr. Otton.
"Many landlords buy an investent property to create a passive income stream, which may help them lead a more independent life. Unfortunately, dealing with 'problem-tenants' can be very stressful. And for those who end up dealing with them on a regular basis, the situation can take its toll," he said.
"For landlords who find themselves in the same situation and are looking for a simple solution out of this problem, they may want to enter a rent-to-buy agreement instead. In a rent-to-buy contract, an incoming tenant has the intent to buy the property. Whenever people view themselves as a future homeowner, they become more protective of the property because they know it's going to be theirs eventually. On the other hand, the landlord can now move away from their unwanted situation and move on to other things" Mr. Otton added.
Mr. Otton then shared that the rent-to-buy strategy is just one of the many creative solutions property investors could use to improve their property deals and create more stable investment decisions.
"Seller finance strategies can be used by anyone anywhere in the country. Because of its flexibility, transactions can be adjusted based on people's specific needs. This allows investors to minimise risk and create different exit-strategies for different market conditions," Mr. Otton added.
Visit http://www.rickotton.co.uk/ today to get more information about creative seller finance strategies and how these strategies can be applied in changing market conditions.
About Rick Otton
Rick Otton is a property investment professional who, over the last 23 years, has introduced innovative real estate strategies to the UK, Australian and the United States. His creative 'low-risk, high-reward' approach to buying and selling houses is exemplified in his own business, We Buy Houses.
This year marks the 10 year anniversary of Mr Otton introducing his strategies to the UK, and the 5 year anniversary of his innovative 'Buy A House For A Pound' process – one that attempted to be emulated by others. His constant process of strategy refinement, and adapting to the ever-changing real estate market, continues to place him at the forefront of property investment education.
In 2012 Rick Otton published his Australian book 'How To Buy A House For A Dollar' which was named in the list of Top 10 Most Popular Finance Titles for 2013. A UK version is on the drawing board for publication in 2014.
Mr Otton freely shares insights into his non-bank-loan strategies that have allowed everyday UK men and women to beat the rental cycle and have their own homes. He coaches others on how to build profitable businesses by facilitating transactions that focus on the needs of potential buyers and motivated sellers.