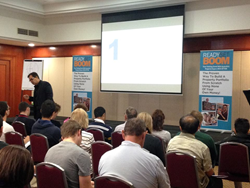 Sydney is a diverse, cosmopolitan city, but what people don't realise is that the property market is just as varied.
(PRWEB) May 22, 2014
As one of the best known and engaging Australian real estate investment educators, Rick Otton's announcement of the dates for his Sydney series of "Ready, Set, Boom" seminars has been widely anticipated. They are May 29 in Parramatta, and two sessions on May 31 in the Sydney CBD.
"The dates, times, and locations, are scheduled to give investors from the fast growing Western Suburbs to the booming North Shore and Eastern Suburbs, the chance to gain insight into these proven, innovative strategies," said Mr Otton. "This will help them on the road to achieving wealth by building a property portfolio."
This geographic spread, Mr Otton says, is deliberate, and will show investors the opportunities available to them wherever they live in this vibrant and diverse city. Both the Parramatta and Sydney city sessions are easily accessible to people coming from regional areas.
"Sydney is a diverse, cosmopolitan city, but what people don't realise is that the property market is just as varied," explains Mr Otton. "On one hand you've got developers knocking on doors in suburbs like Epping, wanting to put in four story, high-density apartments, while in the west, there is a real need for affordable and good quality housing."
"Infrastructure spending, like improving roads and the announcement of the second Sydney Airport out at Badgery's Creek are also great signals for property investors. Massive projects like these help unlock areas for investment by making them more attractive to live and work in."
Mr Otton is of the belief that these sorts of projects, coupled with historically low interest rates and increasing property prices mean that the are good property investing opportunities for the taking.
"But I also want people to understand, that regardless of whether things are great for property like they are now, or if there's a falling market, there are always ways to make money in real estate," said Mr Otton.
"The key is to understand the non-traditional ways to transact real estate deals – and this is where my strategies come in, and it is these I will share at my Ready, Set, Boom sessions."
The Reason To Register
It is Mr Otton's key investment premise – that money can be made a strong portfolio built regardless of market conditions or location – that he believes has in the past attracted both would be or current property investors to his no-charge seminars.
"With a proven foundation, sound construction advice and a disciplined approach, building an outstanding property portfolio is possible in all market conditions, in all housing markets, even one as wide-ranging and diverse as Sydney" he said.
To access event details and to register for these potentially life changing, free two-hour seminars later this month, interested investors are encouraged to visit http://www.readysetboom.com.au or phone 1300 888 450.
For over 20 years property millionaire Rick Otton has built an impressive real estate portfolio using innovative strategies that he has developed – strategies in which transactions are made without the need for traditional bank-type loans. He constantly refines his techniques as he buys and sells properties through his We Buy Houses Pty Ltd business, which operates in Australia, New Zealand and the UK.
A gifted speaker and educator, Mr Otton conducts regular free seminars across Australia, which build on the concepts he shares in his 2012 book 'How To Buy A House For A Dollar', voted by Money Magazine and Dymocks Book stores as one of the Top 10 Most Popular Finance Titles for 2013.
He regularly records and publishes iTunes podcasts via his channel Creative Real Estate.
His innovative low-risk, high-reward approach to Australian real estate investing has been featured in a variety of television programs and magazines, including Today Tonight, A Current Affair and Australian Property Investor.
To register for one of Mr Otton's free Australian two-hour seminars visit http://www.readysetboom.com.au or phone, in Australia, 1300 888 450.