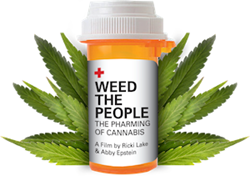 This documentary shines a spotlight on the growing battle cry for access to medical cannabis, in the US and around the world.
San Francisco, CA (PRWEB) July 31, 2015
United Patients Group (http://www.unitedpatientsgroup.com), the leading medical cannabis information and educational site, applauds the awareness-building efforts of filmmakers Ricki Lake and Abby Epstein in producing the documentary "Weed the People." The film explores the medical use of cannabis in the treatment of pediatric cancer.
John Malanca, founder of United Patients Group said, "This documentary shines a spotlight on the growing battle cry for access to medical cannabis, in the US and around the world. While our government is beginning to make progress, it's not moving fast enough. We are proud to be a part of this project and hope that continued awareness will only intensify pressure on our lawmakers to do the right thing."
"We are taking an unflinching look at the underground world of herbal medicine, where patients become experts on their own conditions and spend thousands of dollars on federally illegal medicines that are concocted in suburban kitchens," comments Epstein in the documentary's promotional trailer. "Nowhere is this phenomenon more compelling than in the treatment of children, whose parents will stop at nothing to help them."
"Weed the People" looks beyond propaganda and politics to reveal the legitimate science behind cannabis medicine and the compelling stories of ordinary people whose lives are inescapably caught up in the controversy. The documentary demonstrates that as the War on Drugs rages on, people are suffering—including children.
"Cannabis has been a medicine for 3,000 years—it only hasn't been a medicine in this country for 70 years," comments UCSF cancer and integrative medicine specialist Donald Abrams, MD in the documentary. He believes that in addition to its effectiveness in treating some types of cancer, cannabis can help relieve the side effects of cancer and conventional cancer treatments.
"As a cancer doctor, every day I see patients who have nausea and vomiting from chemotherapy, pain, depression, loss of appetite, and insomnia," he says. "I can write them prescriptions for six different medicines, all of which are expensive and can interact with each other and with the chemotherapy drugs they are taking, or I can prescribe one medication—cannabis—which can take care of all these concerns."
Restricted access to life-saving cannabis is a serious problem. This week, United Patients Group published a blog post on its cannabis resource website describing the plight of individuals who live in states where cannabis is still illegal. Patients with severe epilepsy and other chronic conditions have been moving to California, Colorado and other legal states to get access to medical cannabis.
Patients and their families have to start over, and sometimes split up, just to get the medicine they need. But given the choices available—continuing ineffective conventional treatment, stopping all treatment, trying to get cannabis oil on the black market, risking arrest by smuggling it across state lines, or moving to a legal state—many people ended up making the move.
"It's tough when they live in a place where they do have to break the law," says Malanca, who is interviewed in the film. "If I were in a similar situation with my child or loved one – I don't know that I could see them suffer even one more day – and I think that's why people find themselves making desperate choices."
For more information on "Weed the People" and how you can donate to the production click here.
About United Patients Group
United Patients Group (UPG) is the unparalleled online resource and trusted leader for medical cannabis information and education for physicians, patients and health-related organizations.
Learn more about United Patients Group at http://www.unitedpatientsgroup.com