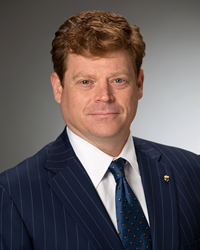 I'm deeply humbled for the recognition. It is a privilege to work for an industry that supports our troops and enables the safety of our nation.
Oklahoma City, Okla. (PRWEB) February 16, 2016
Oklahoma City-based business publication The Journal Record has named Acorn Growth Companies Managing Partner and CEO, Rick Nagel to the 2016 Oklahoma's Most Admired CEOs list. The annual list highlights natural leaders who demonstrate outstanding leadership, integrity and commitment. The list includes CEOs from public and private businesses as well as from nonprofits organizations.
"I'm deeply humbled for the recognition. It is a privilege to work for an industry that supports our troops and enables the safety of our nation. Acorn's success wouldn't be possible without the support of my team. I am grateful everyday for the opportunity to work alongside some of the most gifted and talented individuals who are just as passionate about the Aerospace & Defense industry as I am," said Nagel.
As one of the top performing private equity firms in the country, Acorn Growth Companies has achieved superior long-term returns for its investors by maintaining its core focus of investing exclusively in aerospace and defense companies. Uniquely, the firm has returned capital to investors in three out of its four investment vehicles without yet having sold its core assets. And the mission continues, as the firm launched its 4th private equity fund, and 5th overall fundraising effort in January 2016.
Founded in 2005, Acorn Growth Companies started as a small startup, and is now a global private equity practice with over 800 employees across its portfolio of companies comprised of 16 investments with thirteen platform acquisitions and startups, plus three bolt-on acquisitions, all-adding up to more than $200 million in revenue.
Nagel's leadership is not limited to business. He manages to balance business with volunteer work and involvement in the community. He is a member of the Board of Governors for the Aerospace Industries Association (AIA), the Oklahoma Aerospace Association, and the US Air Force Association. He serves on the Board of Directors for the State Chamber of Oklahoma, and is the treasurer for US Congressman Tom Cole (R-OK, Appropriations & Rules), a position he also served for former US Congressman JC Watts. He also serves as vice president of the National Area Council Committee of Boys & Girls Clubs of America (BGCA) and is president of the BGCA Oklahoma Alliance. His efforts have earned him many awards, including the Lifetime Achievement Award, the Area Council Volunteer of the Year Award and the Southwest Regional Champion of Youth Award.
"It is difficult to imagine how he leads multiple successful businesses while still focusing on the priorities of family, his employees and his community, but he does it amazingly well," said Jane Sutter, president and CEO of Boys & Girls Clubs of Oklahoma County. "In spite of his world travels with his business and national travel on BGCA's behalf, Rick supports all our local events. He is a great role model and coach for our Youth of the Year candidates."
The Journal Record's Most Admired CEOs list is comprised of 27 individuals who continually contribute their talents and skills to better the organizations they lead. The seventh annual awards ceremony honoring these individuals will be held on Feb. 18 at Embassy Suites in downtown Oklahoma City. Three CFOs will also be recognized during the ceremony. All award recipients will be profiled in the Oklahoma's Most Admired CEOs magazine to be published on Feb. 19.
About Acorn Growth Companies
Acorn Growth Companies was founded to provide an alternative to the traditional private equity firm interested solely in opportunistic transactions and exit strategies. From the beginning, the firm has maintained its core focus of achieving superior long-term returns for its investors by investing exclusively in aerospace and defense companies that strive to keep our nation safe and enable global mobilization. The firm's operational and collaborative philosophy founded in a relentless drive to create organic value and meet collective objectives with the companies they work with has enabled it to become the firm of choice amongst the Aerospace and Defense Industry. http://www.acorngrowthcompanies.com