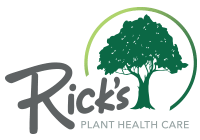 WEST CHESTER, Pa. (PRWEB) June 04, 2019
The spotted lanternfly and the emerald ash borer have been wreaking havoc on trees throughout southeastern Pennsylvania, from Berks County through Chester, Delaware, and Montgomery Counties. While the emerald ash borer is exclusive to ash trees, the spotted lanternfly affects more than 60 different plants. Fortunately, Rick's Plant Health Care is standing by to help. Local residents can call (610) 306-6990 to schedule a free property inspection.
Signs of Spotted Lanternfly Infestation
The spotted lanternfly feeds on sap from all parts of a tree. These insects prefer trees with heavy sap flow and especially favor a variety of maple, willow, birch, and the ailanthus, also known as the "Tree Of Heaven." The spotted lanternfly leaves behind damage to the trunk and limbs which weep sap. The insects themselves also secrete a sticky substance known as honeydew, which can cover the tree's leaves, limbs, and trunk, as well as the surrounding areas of the property, often damaging decks, patios, outdoor furniture and more. Black, sooty mold can develop, and insects ranging from bees to ants are attracted to the honeydew.
Signs of Emerald Ash Borer Infestation
The emerald ash borer leaves behind specific telltale signs. Crown thinning and dieback occurs when the larvae start to feed. This damages the vascular system, causing the outside of the tree to die beginning at the ends of the branches and moving inward to the trunk. Epicormic sprouting is the next stage, as the tree attempts to generate new growth along the main limbs and the trunk. Bark splitting appears as the damaged internal tissue causes vertical breaks on the tree's bark. As adult emerald ash borers emerge in the spring, they leave D-shaped exit holes in the bark. Finally, woodpeckers can be found feeding on the insects, leaving missing strips of bark behind.
Treating Infestations
Rick's Plant Health Care treats infestations of both the spotted lanternfly and the emerald ash borer in the same way, although the products used are designed individually to treat for each particular insect. In both cases, trunk injections are used to combat these pests and provide protection against further infestation. The pesticides are injected into the root collar at the base of the tree, minimizing exposure risks for children and pets.
About Rick's Plant Health Care
John Rogalsky, Certified Arborist and Applicator has over 13 years of industry experience treating for insects and disease and is passionate about the health of their clients' valuable trees and shrubs. John and his team are dedicated to creating individualized and effective, state of the art solutions for each client. To schedule a free property inspection, call Rick's Plant Health Care at 610-840-2655. For more information, visit their website at https://ricksplanthealthcare.com.