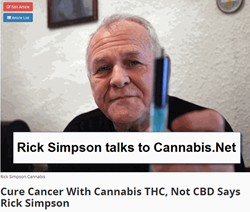 Cannabis THC is the key, not CBD as many believe.
BOSTON, MA (PRWEB) June 01, 2016
Rick Simpson, of the famous Rick Simpson cannabis oils, says that the treatment for cancer is in the THC levels of cannabis, not the CBD levels as many experts tend to pontificate about. "It's like I said, I don't say that CBD doesn't have it's benefits, but I'll tell you one thing brother, if you've got cancer, you better be looking for THC. Having a small CBD content could be beneficial, no question, but it's the THC that to me it's the main cancer killer," said Rick Simpson in a spirited interview with Cannabis.net
Rick Simpson oil, which is considered by some as the most potent and successful medical cannabis oil on the market, is a reciepe that Rick developed and gives away for free online and in his books. He claims that THC, the active ingredient in cannabis and marijuana, is the key to treating cancer with cannabis, and not the CBD part of the plant. In an exclusive interview that covered over 45 minutes with Cannabis.net, Rick explained how the heavy indica strains are good for healing, but for cancer, you need higher THC strains, like LA Confidential and Pineapple Express.
"Other than the fact, I always say, look for a strong Indica variety that is at least 20% THC or even more. There are many out there like LA Confidential, Pineapple Kush. Some of these strains are up in 25, 26% THC. And there's actually strains now that are over 30." says Simpson.
The interview with Rick Simpson also covers such topics of his favorite strains, his feelings toward Canada at this stage of his life, what he sees for the future of cannabis fighting cancer, and where he would like to be in five years.
"Rick is a very colorful guy and his oil receipes has helped thousands of people with cancer, chronic illnesses, and mental illnesses like depression and anxiety." said Curt Dalton, managing director of Cannabis.net. " He is a true pioneer on what the cannabis oils can do for people. He sees tumors shrink and recommends at least 30 days of THC intake to help a patient."
The full Rick Simpson interview can be read and listened to by clicking here or cutting and pasting the following URL into your web browser.
https://cannabis.net/blog/interview/cure-cancer-with-cannabis-thc-not-cbd-says-rick-simpson