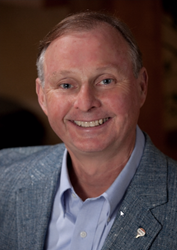 Due to pent-up buyer demand, increased inventory, warmer weather and more daylight hours, house-hunters are primed and ready to buy.
Parker, CO (PRWEB) February 17, 2016
"Spring is the optimal selling season," said Rick Wilson, a broker at RE/MAX Alliance. "Due to pent-up buyer demand, increased inventory, warmer weather and more daylight hours, house-hunters are primed and ready to buy."
Because spring is typically a seller's market, as the largest number of buyers are actively searching for new homes, Wilson shares the following five tips to make sure a home stands out from others on the market and to ensure its sale.
No. 1: Curb appeal. "No matter the season, curb appeal is always crucial," said Wilson. After cleaning out the dead debris of winter, suggests Wilson, always keep the lawn and bushes manicured and plant flowers. Always keep in mind that yellow flowers stimulate buying urges, and an unkempt exterior will encourage home buyers to keep looking.
No. 2: Make it sparkle. Sparkle sells, and prospective buyers will be enticed if the outside windows are clean and reflect the spring sunshine. "This brings buyers inside, which should also shine," said Wilson. If not, the curb appeal and exterior sparkle will be rendered obsolete, as that once-potential buyer will be driven back outside and on to the next house for sale, of which there will be plenty this time of year.
No. 3: Declutter. Getting rid of the clutter in a home for sale is essential as buyers want to see how they will live in the house, not how the seller lived in it. When doing spring cleaning, take time to rid the house of unnecessary items. Pack up and store belongings for keeping and donate the rest.
No. 4: Bring spring inside. This can be achieved by setting out aromatic flowers and opening the windows. Flowers are just as important inside as they are outside, and once inside a potential buyer will appreciate the beauty and aroma of fresh-cut flowers. Furthermore, let the outside in by opening the windows, which accentuates the positives with sunshine, fresh air and a cool spring breeze.
No. 5: Don't ask for the moon. "This means always setting the right price for a home," said Wilson. "Even though spring is the best time to sell, as a seller you should still ask for a reasonable price." If in doubt about the asking price, adds Wilson, compare the home for sell to similar homes in the area that have sold and for how much. Or, visit websites such as Trulia, which reports that the median sales price for homes in Parker, CO, for example, where Wilson not only works but lives, is $371,500.
About Rick Wilson, RE/MAX Alliance
Rick Wilson has been with RE/MAX Alliance for twenty years, specializing in residential real estate, relocation, short sales, and first-time homebuyers. In addition to Parker, Rick focuses on Castle Rock, Franktown, Elizabeth, Lone Tree and Highlands Ranch, CO. His office is located at 18551 E. Main Street, Suite 2A, Parker, CO 80134. For more information, please call (303) 805-7425.
About the NALA™
The NALA offers local business owners new online advertising & small business marketing tools, great business benefits, education and money-saving programs, as well as a charity program. For media inquiries, please call 805.650.6121, ext. 361.