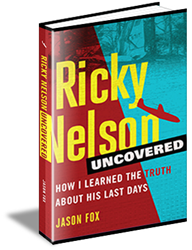 Corona Del Mar, CA (PRWEB) December 02, 2016
"Ricky Nelson: How I Learned the Truth About His Final Days," is a revelatory true account about industry-outsider Jason Fox's disastrous attempt to create the book and screenplay of Ricky Nelson's musical comeback with Ricky's best friend, Jamie Fresh.
As Rick's confidante, Fresh alone knew the shocking truth about why Rick died in a 1985 plane crash. Together, he and Fox were going to set the record straight. Instead, the emotionally unstable Fresh sabotaged the celebrity-endorsed, multi-million-dollar project, cheating all the investors out of their money.
Nobody suffered more than Fox who lost hundreds of thousands of dollars and his girlfriend; now more than a decade later, Fox has come forward to expose the inside story of what really happened to Ricky and how it all went wrong.
About Author Jason Fox:
Jason Fox was born in Dublin, Ireland and immigrated with his parents to the United States as a young child. He is a Senior Mortgage Loan Consultant with a Private Bank and has served as an expert witness in his field multiple times. He currently lives in Orange County with his wife, 2 children and 4 cats - yes 4. This book was on hold for over a decade and lived only in the author's memory until now. The culmination of writing this book has finally brought him closure to a volatile time that has dominated almost half of his lifetime.